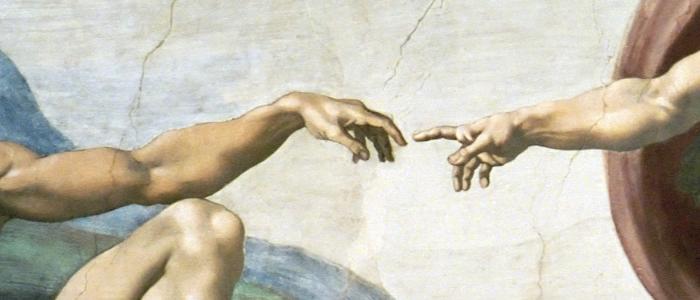 Discover all that Artful Albany has to offer with a weekend getaway this summer! From outside the city limits on the Albany County Helderberg Hudson Rail Trail, to the downtown streets sprinkled with murals, art is everywhere in Albany. Experience the flourishing arts and culture scene from July 29 to August 23 to coincide with the Michelangelo - A Different View exhibit on display at the Albany Capital Center. Start planning your #ArtfulAlbany weekend getaway today with this itinerary! 
Friday Night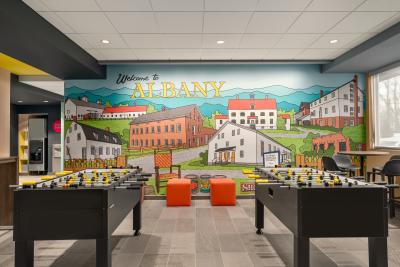 Arrive in Albany on Friday evening for your weekend getaway and check in at one of Albany County's artful accommodations! The Tru by Hilton Albany Airport in Colonie, Renaissance Hotel in downtown Albany and dual-branded Homewood Suites by Hilton and Tru by Hilton at Crossgates in Guilderland all boast a stunning mural. These hotels are the perfect home base for your #ArtfulAlbany adventure. 
Bonus: Jet-setting to Albany via airplane? Admire sculptural installations, cultural artifacts and art exhibits scattered throughout the Albany International Airport Terminal, Concourses A & B and the Airport Art Gallery with the Albany Airport Art & Culture Program.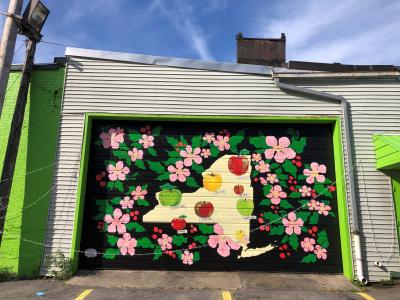 Mural by local artist Phoebe Rotter, in collaboration with Albany Center Gallery
After checking in at the hotel, venture to the Warehouse District for dinner at Nine Pin Cider's Tasting Room. Grab a seat on the patio underneath the twinkle lights for hard cider and delicious eats. New York's first farm cidery boasts a rotating selection of 9 premium and limited small-batch ciders on tap. Enjoy gourmet sourdough personal pizza, fresh paninis and small plates for dinner. Best of all, the Tasting Room's interior and exterior walls boast several murals that are totally Insta-worthy. Learn more about Nine Pin's murals at this link. 
Looking to extend the night out? Head to the nearby Albany Distilling Bar & Bottle Shop for handcrafted cocktails. Make sure to take a peek at the mural directly to the right of the garage door before heading in! 
Saturday

Morning
Jumpstart Saturday morning with Cider Belly Doughnuts, an Albany staple. Located in the heart of downtown Albany, the doughnut shop serves up fresh and delicious apple cider-based doughnuts with unique toppings, glazes, drizzles and fillings. After munching on delectable doughnuts, head on a #CapitalWalls mural exploration. Book a private #CapitalWalls murals walking tour in advance for an in-depth look at 12 to 16 of the #CapitalWalls murals, a public art endeavor by Albany Center Gallery, Albany Barn and Albany Parking Authority. If you are searching for a more casual way to explore the vibrant murals sprinkled throughout downtown Albany, tune into the Artful Albany podcast. Presented by Discover Albany, Downtown Albany BID and Albany Center Gallery, each podcast episode is a self-guided walking tour that explores Albany's 400 year-old history and the #CapitalWalls mural projects. 
Please Note: Private #CapitalWalls Mural Tours must be booked 30 days in advance or rush fee will be added.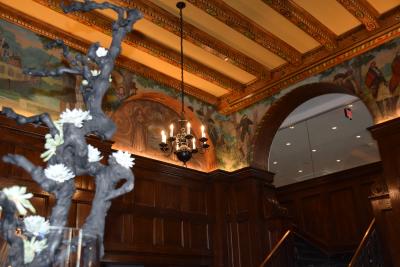 Afternoon
Plan to stop for lunch at Wellington's, located within downtown Albany's elegant Renaissance Hotel. On the way into the restaurant, pass through the hotel's lobby and marvel at the historic murals by Irish artist Victor Gerald White depicting Albany's history. Wellington's menu features cuisine made with locally-grown and produced ingredients. Savor farm fresh eats while soaking up unparalleled views of the New York State Capitol Building during lunch.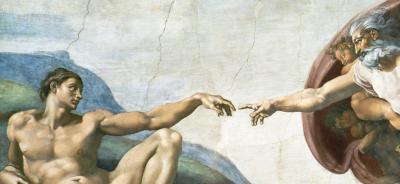 Next up, visit the Albany Capital Center for the must-see Michelangelo - A Different View exhibit. Featuring elaborate reproductions of the most famous fresco in the world, this immersive experience allows for an unprecedented closeness to the magnificent works of Michelangelo. Under the license of the Vatican Museums, the true-to-life reproductions give a unique "different view" of Michelangelo's masterpieces. Tickets are not timed, so leisurely observe and admire every detail in over 50 pieces, including a 20'x20' painting of the Last Judgement. 
Important: Tickets MUST be purchased online in advance. No ticket sales are available at the door. Masks must be worn while in the Albany Capital Center.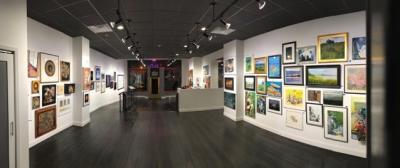 After leaving the Albany Capital Center, take a 10-minute stroll through downtown Albany to visit Albany Center Gallery. For over 40 years, the downtown art gallery has promoted contemporary visual art produced by artists living within a 100-mile radius of Albany with rotating exhibits. Pop in before the gallery closes at 5:00 PM to admire work by local artists.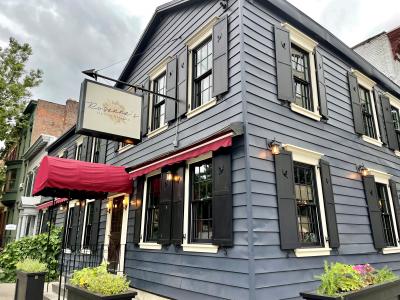 Night
After visiting the "Sistine Chapel" in the heart of downtown Albany, it is only fitting make dinner plans at a local Italian restaurant. Tucked in Albany's historic Center Square neighborhood, savor Old World Italian fare with a modern twist in a retro-glam atmosphere at Rosanna's. If you prefer more old school Italian establishments, head to Caffe Italia or Café Capriccio. Venture outside of the city limits to Watervilet for Valente's Restaurant, to Cohoes for Anthony's Italian Restaurant, or to Colonie for D'Raymonds.
Searching for a post-dinner cocktail spot? dp An American Brasserie has an impressive selection of handcrafted cocktails on the menu. 
Bonus: If your #ArtfulAlbany getaway is planned on Saturday, August 7 or Saturday, August 14, enjoy theater under the stars! Catch Matilda by Playhouse Stage Company on the Washington Park Lake House stage at 8:00 PM.
Sunday 

Morning 
Start off Sunday morning with a hearty breakfast at Iron Gate Cafe. The family-owned and operated restaurant, housed in a converted historic mansion, is nestled on the edge of Albany's Center Square neighborhood. If the weather cooperates, dine al fresco on the charming patio. The menu features a variety of brunch fare including Benedicts, omelets, scrambles, pancakes, French toast and more. 
Embark on a 10-minute walk to the Empire State Plaza, home to a treasure trove of modern art. The Empire State Plaza Modern Art Collection features ninety-two works of Abstract Expressionist art, including pieces by Alexander Calder, Jackson Pollock, Franz Kline, Joan Mitchell and Mark Rothko, on permanent display. Admire the paintings and towering sculptures throughout the Empire State Plaza in the concourse, office buildings and outdoor spaces. View the details on each piece at this link.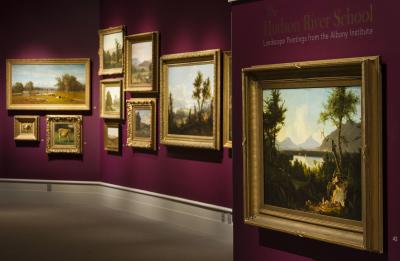 Opening at noon on Sundays, the Albany Institute of History & Art is a must-visit spot during an #ArtfulAlbany weekend getaway. It is one of the oldest museums in the country specializing in art and historical objects documenting the life and culture of New York's Upper Hudson Valley from the late 17th-century to present. Admire a stunning collection of Hudson River School paintings and browse the museum's latest exhibit, "Romancing the Rails: Train Travel in the 1920s and 1930s". Before leaving, check out the outdoor sculpture garden near the Washington Avenue entrance.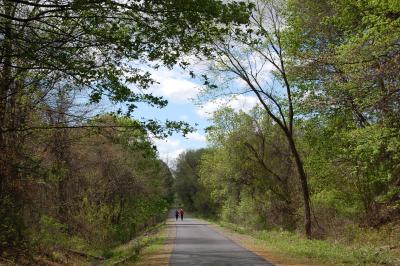 Afternoon
Before concluding your #ArtfulAlbany weekend getaway, explore art outside the Albany city limits. Jump in a rideshare or drive your car to Delmar to check out Art on the Rail Trail (ART). This public art initiative, made possible by a group of local residents and the Mohawk Hudson Land Conservancy, has resulted in five murals on the Albany County Helderberg Hudson Rail Trail. Go for a walk to soak up scenic views of nature and admire the vibrant art installations. Find information on the locations of the art installations at this link. 
Looking to grab a late lunch before leaving town? If you road tripped or took an Amtrak train, dine at The Hollow Bar + Kitchen or Olde English Pub, both located in downtown Albany. Hopping on a plane at Albany International Airport? Try TORO Cantina located around the corner from the airport on Wolf Road in Colonie.