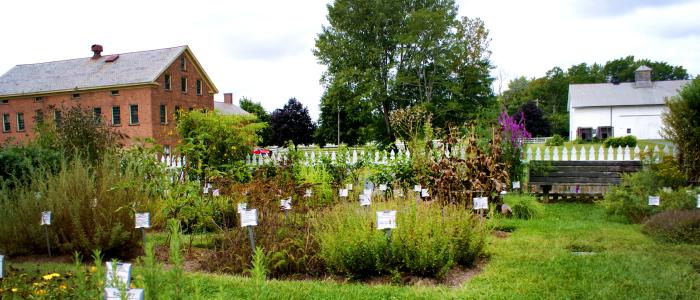 Did you know that June 22 - 28 is National Pollinators Week? It is a time to celebrate pollinators and spread the word about what you can do to protect them. In March 2019, Albany County adopted a resolution to establish the county as a pollinator friendly municipality. Pollinators (bees, hummingbirds, bats, beetles, butterflies and flies) move pollen from plant to plant and are important to the ecosystem, agriculture, and the economy. This year Shaker Heritage Society is spearheading a collaborative effort with other local groups to celebrate pollinators all summer long. Keep reading to discover how local groups are celebrating. 
Shaker Heritage Society, the site of America's first Shaker settlement, is celebrating pollinators all summer long. The peaceful grounds of the site including several historic buildings, an apple orchard, a cemetery, an herb garden and the Ann Lee Pond & Nature Preserve. The herb garden is blossoming with a variety of pollinator plants and herbs. The 180-acre Ann Lee Pond Nature & Historic Preserve is home to many pollinators with a large pond, wetlands, forest and meadows. Follow @ShakerHeritageSociety on Instagram and stay tuned for pollinator programming focused on beekeeping history, the herb garden and Ann Lee Pond.  
In 2019, Albany County adopted a resolution to establish the county as a pollinator friendly municipality. The Albany County Office of Natural Resource Conservation developed this comprehensive pollinator website explaining why pollinators are important, how you can help, and additional resources. Explore the website to brush up on your pollinator knowledge and get inspired to plant your own pollinator garden with native plants!
Ten Broeck Mansion's gardens are an urban oasis in the city of Albany. View the above Instagram post for a self-guided, family-friendly pollinator tour of the gardens. Embark on a scavenger hunt with your kids to find each of the flowers featured in the Instagram post such as false indigo, spiderwort, sage, peonies and more! While seeking out the flowers, keep an eye out for any bees, butterflies or insects visiting the plants. The gardens are free and open from dawn to dusk. 
Connect with nature at the Pine Hollow Arboretum. Located in Slingerlands, the 22-acre arboretum is home to 3,300 unique plants. These plants are home to many bees, butterflies and insects in Albany County. Explore the tranquil preserve and actively keep an eye out for these pollinators! Plus, this Saturday, June 20 the arboretum is celebrating Founders Day with tours, talks and social distancing activities. The grounds are open dawn to dusk, 365 days per year.
Additional Organizations Involved: