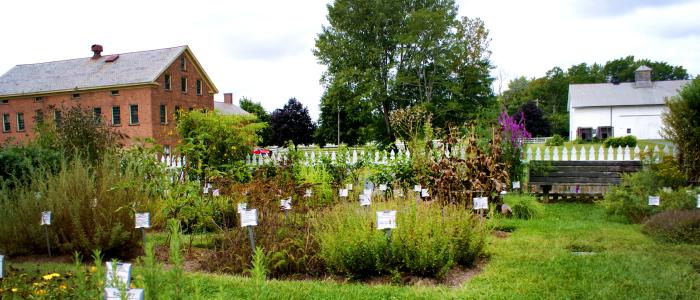 National Pollinators Week is from June 19 to 27, 2021! It is a time to celebrate pollinators and spread the word about what you can do to protect them. In March 2019, Albany County adopted a resolution to establish the county as a pollinator friendly municipality. Pollinators (bees, hummingbirds, bats, beetles, butterflies and flies) move pollen from plant to plant and are important to the ecosystem, agriculture, and the economy. Shaker Heritage Society is spearheading a collaborative effort with local organizations to celebrate pollinators this June. Keep reading to learn about upcoming pollinator special events, self-guided experiences and tours. Don't forget to join the conversation on social media with #518Pollinators! 
Shaker Heritage Society, the site of America's first Shaker settlement, is celebrating pollinators all summer long. The peaceful grounds of the site include several historic buildings, an apple orchard, a cemetery, Pollinator and Herb gardens and the Ann Lee Pond & Nature Preserve. Explore the Pollinator Garden and 150 blossoming plants at the Herb Garden with the Family Herb Garden scavenger hunt and Pollinator packet, available for free in the gardens. Venture through the 180-acre Ann Lee Pond Nature & Historic Preserve, home to many pollinators, with a large pond, wetlands, forest and meadows. Grounds are open from dawn to dusk. Shaker Heritage Society is hosting two events during National Pollinator week: the Shaker Herb Garden 30th Anniversary Celebration on Saturday, June 19 and Inventors and Gardeners tour on Tuesday, June 22. 
Cornell Cooperative Extension of Albany County (CCE) provides resources on soils, proper plant selection and care, eco-friendly practices, composting and much more! CCE is celebrating National Pollinator Week with webinars and special events. On Saturday, June 19, Monday, June 21 and Thursday, June 24 head to the Demonstration Gardens at 24 Martin Road in Voorheesville to tour the gardens, meet with the Albany County Master Gardeners and embark on a kid-friendly scavenger hunt. On Thursday, June 24 there is an opportunity to meet the Master Gardeners during the Pollinator Garden Open House at the Pine Hills Library in Albany from 4:00 PM to 6:00 PM. Interested in celebrating Pollinator Week virtually? CCE is offering a free webinars via Zoom on Bringing Nature Into Your Yard & Sustaining It on Monday, June 21 and Welcoming Nature Into Our Yards on Wednesday, June 23. 
Historic Cherry Hill, located in Albany's historic South End, was home to five generations of the Van Rensselaer family. Over centuries, the historic grounds of Cherry Hill have transformed from a Hudson River manor farm to an urban backyard with historic gardens buzzing with pollinators! From Wednesday, June 23 to Saturday, June 26 bring your kids to the historic site for a Family Nature Scavenger Hunt to discover the flowers and greenery essential to the survival of local pollinators. See what is in bloom and what is pollinating in the gardens during A Tour of Emily's Gardens on Wednesday, June 23. Bring your kids to Books and Blooms! with the RED Bookshelf on Saturday, June 26 for the Family Nature Scavenger Hunt, reading by a local author, a surprise hands-on activity and free books! 
After a decade of restoration work, the historic home has reopened with restored interiors and reinstalled furnishings. House tours are offered on Friday, June 25 from 1:00 PM to 4:00 PM and Saturday, June 26 from 10:00 AM to 4:00 PM. 
Explore a globally-rare ecosystem at the Albany Pine Bush Preserve, one of the best remaining inland pitch pine-scrub oak barrens in the world. The 3,350-acre preserve is a habitat for many plants and animals including pollinators! Download the "Agents of Discovery" app to take the Albany Pine Bush Preserve Pollinator Challenge at any time during National Pollinator Week. Pick up free Pollinator Discovery Kits packed with information and activities to help you and your kids celebrate pollinators. The kits are available on a first-come, first-served basis at 10:00 AM on Saturday, June 19. Tune in virtually to the Buzz of the Pine Bush Bees on Thursday, June 24 to learn about the Pine Bush's 180 species of native bees and how you can help native pollinators in your own backyard. 
Ten Broeck Mansion's gardens are an urban oasis in the city of Albany. Embark on a self-guided, family-friendly pollinator tour of the gardens and pick up free kids' pollinators coloring cards throughout the week. Keep an eye out for bees, butterflies or insects visiting the blooming flowers such as false indigo, spiderwort, sage, and peonies. On Saturday, June 19 Ten Broeck Mansion is hosting Living History: Plant!, a free hands-on workshop for kids to make their own planters with plants that attract pollinators! The gardens are free and open from dawn to dusk. 
Connect with nature at the Pine Hollow Arboretum. Located in Slingerlands, the 22-acre arboretum boasts 3,300 unique plants that are home to many bees, butterflies and insects. Explore the tranquil arboretum and actively keep an eye out for these pollinators. On Saturday, June 26 the arboretum is celebrating with a Pollinator Party! Taste honey, explore the new Bumblebee Habitat, create a Pollinator Habitat, and learn about different kinds of pollinators. Plus, meet the Bombus Pollinators Association of Law Students from Albany Law School who are working to get the American Bumblebee added to the endangered species list.
Need a ride from the City of Albany to Pine Hollow? Jump on the Nature Bus, a free Saturday service connecting the city to Albany's County scenic outdoor spaces.