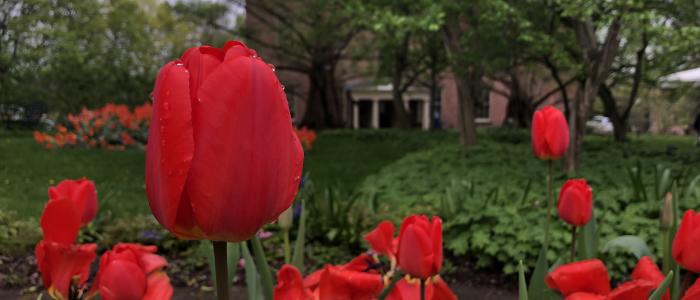 April 22, 2020 marks the 50th anniversary of Earth Day! Celebrate Mother Earth from the comfort of your own home or backyard. Local organizations are engaging the community in creative ways from virtual nature experiences, to clean-up challenges, to gardening tips & tricks. Keep reading for 7 ways to celebrate Earth Day this year!
Earth Day Challenge
The Mohawk Hudson Land Conservancy (MHLC) has celebrated all month long with the "Earth Day Challenge." There is still time to join in! MHLC challenged the community to get outside and pick-up trash at a local preserve, nearby outdoor space or your own yard - while practicing social distancing! Submit your "best garbage photo" of you, your family or your pets participating and email them to carrie@mohawkhudson.org. Follow along on Facebook, Twitter & Instagram for a chance to win prizes. 
Get Your Garden Growing
The Radix Center will be celebrating Earth Day with a special Facebook Live tour of the space along with a Q&A! After Earth Day, Radix will continue to host a weekly Facebook Live "Lunchtime Garden Chat" on Thursdays. These videos are packed full of tips and tricks to help get your own garden growing. Topics have ranged from "Garden Planning & Design" to "Composting at Home." If you do not have a green thumb, Radix has a "Farm Share" program for locals. Sign up to receive produce grown at Radix and choose your maximum weekly charge ($10, $20 or $30). This is a great way to receive fresh, local produce if you are not interesting in planting your own garden. 
If you are awake right now.. maybe you would like to read in the "Reading for Sunrise" section of our #EarthDay marathon reading. Sign up here--> https://t.co/gVonX2O2xB

— APL Foundation (@APL_Foundation) April 15, 2020
Earth Day Marathon Reading
On April 22nd, the Albany Public Library Foundation is hosting an Earth Day Marathon Reading! From sunrise-to-sunset, watch a live stream of readers celebrating Mother Earth. Readings will vary from poetry to fiction to nonfiction, but all environmentally-focused. Stay tuned for information on how to access the virtual broadcast at this link. 
Virtual Walk at Ann Lee Pond
Celebrate Earth Day with Shaker Heritage Society and Capital Region Native Plant Society! On April 22, tune into a Virtual Walk at Ann Lee Pond hosted on Zoom! Led by David Behm (Curious By Nature), the virtual walk will showcase the spring ephemeral wildflowers blooming at the Ann Lee Pond Nature & Historic Preserve. The event is scheduled for 45 minutes and will include interactive discussion. 
Earth Day Bingo
The Albany Capital Center is challenging the community to Earth Day Bingo! Every day, one of the ACC team members are completing an Earth Day activity to help the environment. Fill your own board by starting a compost pile, watching a nature documentary, or cleaning up garage! Make sure to share your board to social media and tag @AlbanyCapCenter. 
Earth Day Campaign
There is still a chance to join in on UAlbany Green Scene's Earth Day Campaign! In honor of Earth Day's 50th Birthday, UAlbany is showcasing its community's commitment to sustainability. Before April 22nd, the goal is for 50 different campus members to post 50 environmentally friendly actions on social media. Choose an action off of this list, take a photo and post it to Facebook, Twitter or Instagram with the following hashtags: #UAlbanyEarthDay, #50forthenext50 and #EarthDayNetwork. To cap off the celebrations, take a photo of you and your family celebrating Earth Day's birthday on April 22nd and post it to social media! 
Ten Broeck Mansion's Gardens
Albany's historic Ten Broeck Mansion blooms with tulips, daffodils, forget-me-nots and more each Spring. If you live nearby, the grounds are open (for free!) from dawn to dusk for a safe, social-distancing stroll. If you cannot make it in person to the mansion's luscious gardens, tune in on Facebook for garden tour videos (such as the one above!) and photos of spring blooms.