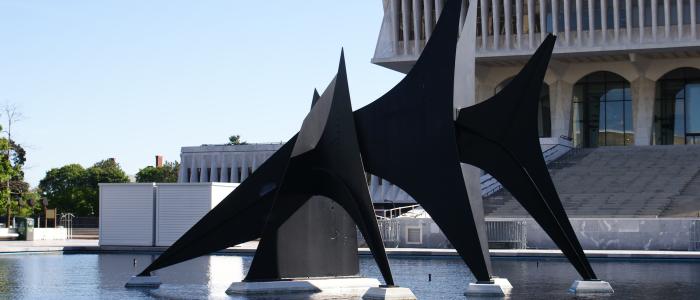 September is shaping up to be a month filled with socially-distanced and virtual events in Albany! From virtual music festivals, to outdoor tours, to a must-see spooky display, there is something for everyone this month. Keep reading to get the details on 7 socially-distanced and virtual events in Albany County for September. 
Please remember to abide by all health and safety protocols while attending these socially distanced events. Wear a mask and try to maintain social distancing when possible. 
Friday Outdoor Tours
September 4, 11, 18 & 25 and October 2
The Empire State Plaza is a must-see landmark in Albany! On Fridays this Fall, the Empire State Plaza is offering outdoor tours. Art enthusiasts will love the Plaza Art Collection Outdoor Tour that highlight's the Plaza's extensive modern art collection including "Triangles and Arches" by Alexander Calder. Searching for a tour that provides an overview of this world-class complex? Sign up for the Empire State Plaza Outdoor Tour to dive into how government and culture are housed within this unique architecture. Reservations are required. Call the Empire State Plaza Visitor Center at 518-474-2418 for reservations. A maximum of 10 people will be allowed to participate in each tour. 
Stretch, Shop & Savor
September 5, 12, 19 & 26
Safely experience downtown Albany with Stretch, Shop & Savor! Every Saturday in September, the Downtown Albany BID is encouraging locals to stretch with a free outdoor yoga class, shop downtown retail and savor a meal at one of the many restaurants. The fun starts at 11:00 AM with a free, socially distanced yoga class on the lawn at SUNY Plaza. After stretching it out, peruse sidewalk sales and treat yourself to lunch with one of the many restaurant specials. 
September 8 - 11
Up for a bit of jazz? The Albany Riverfront Jazz Festival is going virtual this year! Historically a one-day event, this year it is transforming into a digital jazz week celebration from September 8 - 11. Each day, Albany Events will feature a live musical performance from a regional or local jazz musician. Make sure to follow Albany Events on Facebook for the most updated information. 
Albany Book Festival
September 10 - 24 
The New York State Writers Institute's 3rd Annual Book Festival is going virtual! From September 10 through 24, tune into talks, panels, workshops and more on the New York State Writers Institute's YouTube channel and website. Featured authors include Edwidge Danticat, Noam Chomsky, Gish Jen, Colum McCann, Sister Helen Prejean and more. All events are online, free and open to the public. 
Fall Harvest Craft Fair
September 12 and 13
Shaker Heritage Society's  Fall Harvest Craft Fair is back - with a socially distanced twist! Browse a variety of over 40 vendor booths all placed outdoors and at least 12 feet apart. Enjoy pony rides, tours, musicians and demonstrations against the picturesque backdrop of the historic buildings and beautiful Shaker site. Masks are required! Tickets are available online and are pay-what-you-will. 
Socially-Distanced YogaPalooza & Virtual PearlPalooza 
September 19
Celebrate wellness and community with YogaPalooza on September 19! Register in advance for the free, socially-distanced outdoor yoga class held at two downtown Albany locations: the SUNY System Administration Building's lawn and Tricentennial Park. Led by instructors from The Hot Yoga Spot, the 60-minute yoga class will require masks and social distancing. After yoga, participate in Stretch, Shop & Savor in downtown Albany! Or, tune into the virtual PearlPalooza livestream from a downtown restaurant while enjoying PearlPalooza food and drink specials. The livestream will feature exclusive performances and interviews during a Facebook Live video on 102.7 WEQX's Facebook page! 
Hollowed Harvest
September 25 to November 1
A brand-new Halloween event is kicking off on September 25 at the Altamont Fairgrounds. Marvel at over 7,000 illimuniated Jack-O'-Lanterns arranged in larger-than-life displays and jaw-dropping landscapes. Expect to admire dinosaurs, zombies, sea creatures, and medieval castles towering as tall as 3 stories, and spanning more than 60 feet in length! Hollowed Harvest is a family-friendly (but still slightly spooky!) way to kickstart the Halloween season. Tickets must be purchased in advance and are available online only.