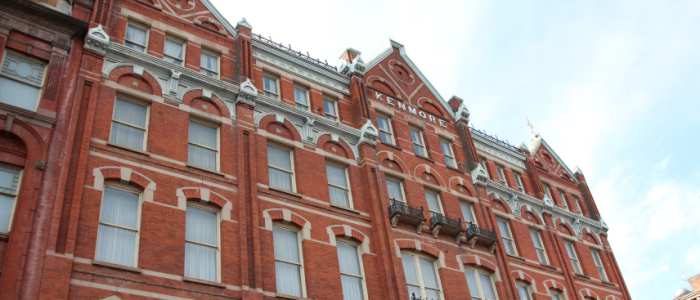 Photo Header: Kenmore Hotel (featured in William Kennedy's novels)
Many contemporary authors, playwrights and journalists have called Albany home. Some renowned writers have grown up in the area, while others have spent a few years walking the streets of New York's Capital City. Albany is lucky to boast ties to many contemporary writers, but keep reading to get the details on six of them. 
Click here for a blog post featuring historic authors with ties to Albany.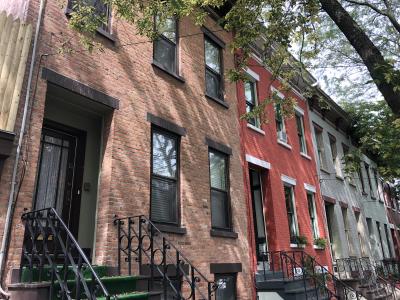 Photo of 67 Dove Street (Jack "Legs" Diamond residence) owned by Kennedy
William Kennedy
Albany native son, William Kennedy, is a famous author, screenwriter and playwright. His "Albany Cycle" of books include Legs, a novel about infamous gangster Jack "Legs" Diamond, Billy Phelan's Greatest Game, and the Pulitzer Prize winning novel Ironweed. These novels shape Albany's literary landscape and feature notable landmarks such as the Kenmore Hotel and St. Agnes Cemetery. He founded the New York State Writers Institute and his monumental impact on Albany in pop culture is still celebrated today. Raise a glass to Kennedy with Albany Distilling's Ironweed Whiskey, named after the acclaimed novel, to celebrate his literary legacy.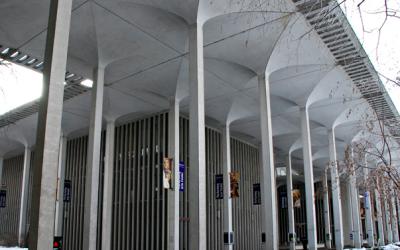 Photo of the University at Albany
Toni Morrison
Nobel and Pulitzer Prize-winning American novelist Toni Morrison spent part of her life in Albany. From 1984 to 1988, she was a "Schweitzer Professor in the Humanities" at the University at Albany and taught writing. She also premiered her first play, "Dreaming Emmett", in Albany with Capital Repertory Theatre. The play, a story about the 1955 murder of African-American teenager Emmett Till by white men, was co-sponsored by the New York State Writers Institute. Learn more about Morrison's time in Albany from the Times Union here and here.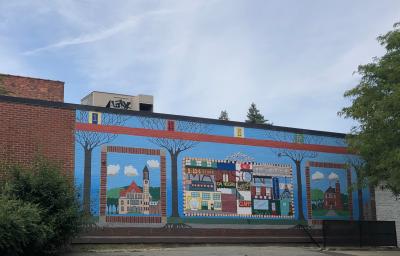 Mural in Albany's Pine Hills neighborhood
Gregory Maguire
Gregory Maguire, famed author of Wicked: The Life and Times of the Wicked Witch of the West, was born and raised in Albany. He grew up in the Pine Hills neighborhood and often frequented the old Pine Hills library. According to the Times Union, he used to play the Wizard of Oz with his friends in his backyard growing up, which later inspired his celebrated novel. Maguire wrote his first children's book, "The Lightning Time," while attending the University at Albany.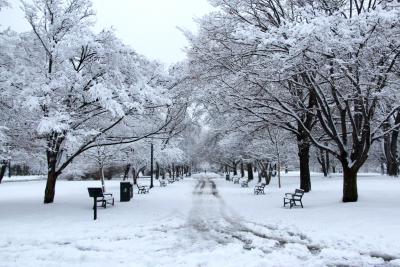 Photo of Washington Park in Albany during the winter
Robin Oliveira​
Author Robin Oliveira grew up just outside the city of Albany in Loudonville, NY. Two of her novels My Name is Mary Sutter, a story about a Civil War surgeon, and Winter Sisters feature Albany. Winter Sisters, her most recent historical fiction novel, is entirely set in Albany in 1879. The story features the return of Mary Sutter on a search for two young sisters who go missing during a blizzard. Oliveira spent quite a bit of time researching the city of Albany during that era for the novel.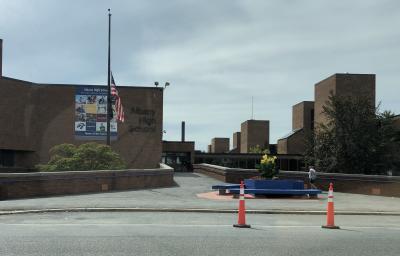 Photo of Albany High School
Charlayne Woodard
Playwright and actress Charlayne Woodard was born in Albany and grew up in the Arbor Hill neighborhood. She attended Albany High School, where she and a group of African-American students put on a theater piece titled, "Anyone 'Round My Goal Is It," about "the history of Albany and how it related to slavery and us and growing up." She credits that experience for inspiring her to pursue acting. Among her film credits are M. Night Shyamalan's Glass; Charles Murray's Things Never Said; M. Night Shyamalan's Unbreakable; and Nicholas Hytner's The Crucible  She has also written several plays inspired by her childhood and family, including "Pretty Fire" and "Neat". Read more about how her Albany roots helped spark her career in this Times Union article.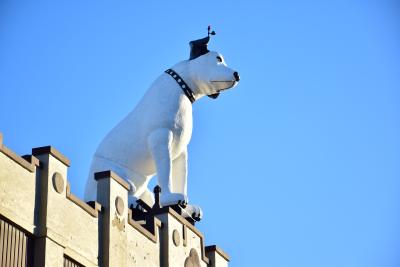 Photo of Nipper
Paul Grondahl
Journalist, author and director of the New York State Writers Institute, Paul Grondahl, is a familiar name to most Albany residents. He has been writing for the Albany Times Union since 1984. Grondahl has also written biographies on Theodore Roosevelt and Albany Mayor Erastus Corning 2nd. Most recently, he published "Great Dogs of Albany and Beyond," featuring tales of beloved Capital Region pets from Times Union readers with Nipper starring on the cover. 
To learn more about Albany authors, poets, illustrators and more, visit the Pruyn Collection in the Local History Room at the Albany Public Library. at 161 Washington Avenue at Albany, NY 12210.