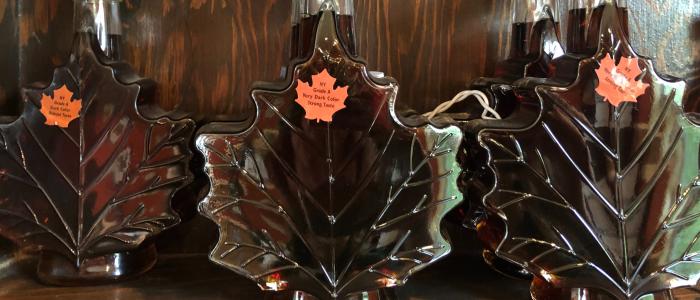 The sweetness of spring has finally arrived in Albany! Before the tulips bloom, Albany County, along with the rest of Upstate New York, experiences maple mania. While maple season might be a little bit different this year, there are still several ways to get in on the fun. Scroll on for four ways to enjoy maple season in Albany County and beyond. 
Please remember to wear your mask and remain socially-distant while visiting restaurants or attractions. 
Support Local Maple Syrup Producers
Albany County's Helderberg Hilltowns are home to several local maple syrup producers. Nestled in the hills of Berne, Mountain Winds Farm produces 500 gallons of syrup each spring! The family-owned maple and chicken farm handcrafts each batch of maple syrup with a wood-fired evaporator. Purchase the farm's maple products including granulated maple sugar, maple candy, maple hot sauce and maple bbq sauce through the online shop, in-person at the farm store or in-person at local farmers markets throughout the Capital Region. Located nearby in Berne is Bittersweet Maple. The family-run sugar house focuses on creating high quality pure maple syrup each spring. Call (518) 872-9435 before swinging by to pick up your maple syrup! Malachi Farms, located in Knox, boils sap to create small batch maple syrup. Call (518) 320-4343 before stopping by the farm stand to see if maple syrup is available. 
Sugaring Off Sundays at Home
Sugaring Off Sundays with The Farmers' Museum in Cooperstown is an Upstate NY maple tradition. While the family-friendly event cannot be held in-person this year, the museum is providing families with virtual offerings to enjoy the fun at home. Sign up for the museum's e-newsletter, sent on the two remaining Sundays in March, for children's book readings, maple sugaring videos and more. Don't forget to snap a photo of your own pancake breakfast for a chance to win sweet prizes including maple syrup and museum memberships! Follow The Farmers' Museum on Facebook for more details on the photo contest, maple sugar videos and more. 
Engage with the Radix Center
Do you follow the Radix Ecological Sustainability Center on Instagram or Facebook? The Radix Center, Albany's one-acre "farm in the city", has tapped trees at Lincoln Park, Historic Cherry Hill and throughout the city of Albany. While collecting the sap, The Radix Center has taught kids and community members about how maple syrup season makes spring in Upstate New York unique. Check out their social media posts to see local elementary school children tapping the trees! The Radix Center is planning to sell the maple syrup at local farmers markets throughout the year, so keep an eye out for it. 
Drink Maple
Support local craft beverage producers this maple season! At the beginning of March, Nine Pin Cider released a limited amount of Maple Apple Jack, a Hudson Valley collaboration with Samascott Orchards, Crown Maple and Harvest Spirits. The cans of Maple Apple Jack are sold-out, but a limited supply is on tap at Nine Pin Cider's Tasting Room for growler fills or pints. If you cannot get your hands on Nine Pin's Maple Apple Jack, pick up a bottle of NY Maple from Capital Distillery! The Warehouse District distillery ferments natural locally-sourced maple syrup and then distills it like a whiskey. Or, if you have maple syrup on hand from a local farm, pick up a bottle of Ironweed Whiskey from Albany Distilling Company. Shake up a cocktail at home with the maple syrup and Ironweed with a recipe from the distillery's website. Cheers!