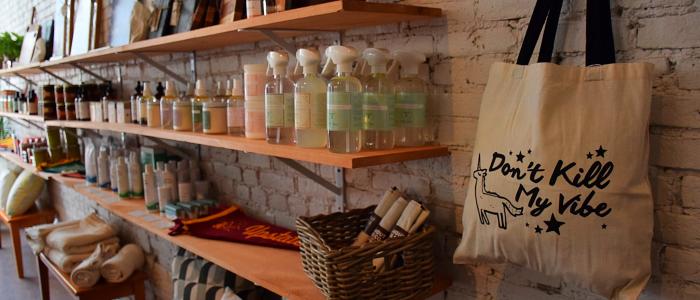 Stumped on what gifts to give your family and friends this holiday season? Get inspired at one of Albany's upcoming craft fairs or holiday markets. These markets are a great way to support small businesses and local heritage sites in Albany. Plus, they offer fantastic selections of unique, handmade items. Head to one of the following seasonal markets to find that one-of-a-kind gift or to simply get in the holiday spirit! 
Dates: October 27 - December 15 (Monday, Tuesday, Wednesday, Thursday, Friday, Saturday) 
Time: 10:00 AM to 5:00 PM
Location: Meeting House at 25 Meeting House Road
Price: Free
Shop local and support Shaker Heritage Society this holiday season! The popular Christmas Craft Fair features handmade pottery, jewelry, gourmet preserves, chocolate, art prints, photography and more produced by local and regional artisans. This year there are also new evening hours on Thursdays from 5:00 PM to 8:00 PM! 
 
Dates: November 23 - December
Time: 5:00 PM to 8:00 PM
Location: Underground Railroad History Project of the Capital Region
Price: Free
Shop holiday cards, books, toys, ornaments, handmade jewelry and more at the Myers Residence's Holiday Shoppe. The Holiday Shoppe is a great place to find special gifts for friends and family while supporting the Underground Rail History Project of the Capital Region. 
Date: November 24
Time: 10:00 AM to 4:00 PM
Location: The Hollow Bar & Kitchen
Price: Free
Now in its fifth year, Handmade at the Hollow is coordinated by the Enchanted Florist of Albany on Small Business Saturday. The one-day holiday market features handmade candles, soaps, art and more by artisans, crafters and makers. 
 
Dates: November 30, December 7, December 14 & December 21
Time: 5:00 PM to 9:00 PM
Location: Arcade Building at 488 Broadway
Price: Free
The Fort Orange Holiday Market features up to 35 rotating vendors selling locally made and sourced goods. There will also be live entertainment, art exhibits, food & drink, and more festive fun! 
Want to shop gifts from local makers on Black Friday or Small Business Saturday? Fort Orange General Store is offering a Holiday Promotion here those who spend over $50 will receive a free Fort Orange Tote Bag and those who spend over $100 will receive a $15 gift card to the shop!
 
Dates: November 30, December 1, December 2
Time: Friday & Saturday 10 AM to 5 PM; Sunday 11 AM to 3 PM
Location: American Italian Heritage Museumat 1227 Central Ave.
Price: Free
Visit the American Italian Heritage Museum & Cultural Center for the Italian Christmas Market. Peruse "Made in Italy" gifts such as Italian language Christmas cards, books, homemade baked goods, calendars, Italian flags, aprons, cookbooks, Italian music CD's and more! Don't forget to explore the featured special exhibit, the Italian Christmas Nativity. 
 
Date: December 1
Time: 11:00 AM to 5:00 PM
Location: Irish American Heritage Museum at 370 Broadway
Price: Adults $3; Children 12 and under Free
Join the Irish American Heritage Museum for a one-day Christmas Market featuring artisans, gifts, delicious Irish food tastings and more! Kids will also have the opportunity to visit with Father Christmas. 
 
Date: December 2
Time: 11:00 AM to 4:30 PM
Location: New York State Museum
Price: Free

Stroll through the halls of the  New York State Museum during the 5th Annual Taste NY Holiday Market. While shopping for the perfect gift, sample "made in New York" foods. Enjoy food and beverages from dozens of vendors, including hand-crafted beer, wine and spirits, cheese, chocolate, apple and maple products, and other edible goodies. The event will also feature regional culinary historians sharing recipes and foods of past centuries. 
 
Dates: December 7, December 8, December 11, December 16
Time: 12/7 6:00 to 9:00 PM; 12/8 12:00 PM to 4:00 PM; 12/11 4:00 to 7:00 PM; 12/16 11:00 to 2:00 PM
Location: Albany Barn
Price: Free
Shop small this holiday season at the Albany Barn's Gifted Holiday Market pop-up store.  Browse handmade goods crafted by a dozen artisans in the Capital Region while sipping warm beverages and sampling delicious holiday treats.
Date: December 9
Time: 2:00 PM to 5:00 PM
Location: Albany Art Room at 350 New Scotland Ave. 
Price: Free
Enjoy free refreshments while you browse the Albany Art Room's selection of beautiful, original and affordable gifts! 
Date: December 9
Time: 12:00 PM to 5:00 PM
Location: Village of Altamont, various locations
Price: Free
Altamont's Victorian Holidays Celebration features a popular Winter Market! At multiple indoor locations throughout the village, view artisan crafts, local brews and festive food. Many village businesses will be open regular hours with some hosting special events for the occasion. 
 
Date: December 9
Time: 10:00 AM to 4:00 PM
Location: Octagon Baarn at 588 Middle Road, Knox
Price: Free
Explore locally harvested treats and handcrafted gifts for a festive shopping experience at the Holiday Hilltown Market by the Helderberg Hilltowns Association. Bring your little ones for a visit with Santa at noon. Enjoy live music and free refreshments while you shop!