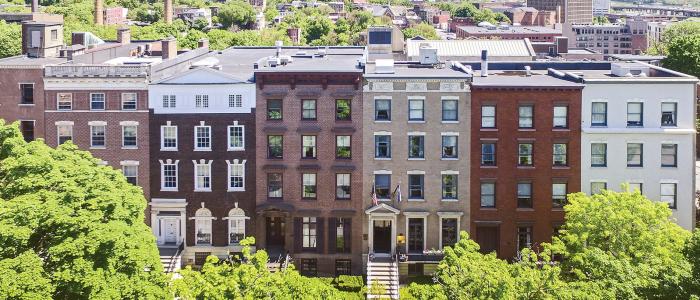 Albany, NY – The New York State Bar Association's headquarters at 1 Elk Street is home to one of the truly unique and historical venues in downtown Albany. And now, for the first time, the space at 1 Elk is available to the public for meetings, conferences and events.
Situated between the State Capitol and the Court of Appeals and just a short walk from the Empire State Plaza and downtown Albany, 1 Elk offers a selection of settings from intimate to expansive. Its facilities can accommodate groups of 10 to 300 people and offer a truly unique space that guests will never forget.
With indoor and outdoor spaces available, 1 Elk is an unforgettable location for corporate events, conferences, meetings, receptions and business gatherings of all kinds. Its features include state-of-the-art audio and video capacity, high speed internet, conference call capabilities and catering options.
With six spaces to choose from, 1 Elk can be customized to suit almost any special event.
The Great Hall is designed for large meeting and gatherings, with seating available for groups as large as 200.
The Terrace is directly connected to the Great Hall and offers a lovely outdoor space featuring expansive views of Albany and the surrounding area.
The Peck Room is a large executive conference room that can accommodate up to 26 around a single rectangular table or 50 with additional seating.
The Cromwell Room is a more intimate boardroom style setting with a seating capacity of 12 around a rectangular table or 20 with additional seating.
Jenny's Parlor features front and back parlor rooms, looking much like they did in the 1880's when Elk Street was known as Quality Row. This space can accommodate up to 60 for a standing reception or 44 for dining.         
The City View Room is a classroom seating up to 26, with a view that includes City Hall, the Court of Appeals and Albany County Courthouse.
Home of the 140-year-old New York State Bar Association, 1 Elk is a unique facility with a fascinating history. The row houses at 1 Elk were home to six New York State governors, including two who went on to become President: Martin Van Buren and Franklin Delano Roosevelt. Today, 1 Elk is a meeting place for many of New York's top attorneys and judges. And now, for the first time, 1 Elk is available for your meeting, conference or event.
For more information or to plan your next event, visit www.1elk.com.
About the New York State Bar Association
The New York State Bar Association is the largest voluntary state bar association in the nation. Since 1876, the Association has helped shape the development of law, educated and informed the legal profession and the public, and championed the rights of New Yorkers through advocacy and guidance in our communities.