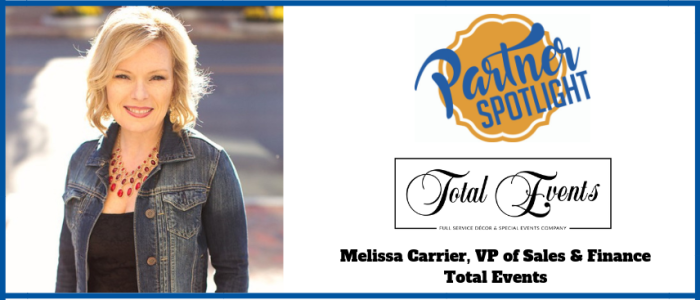 We are featuring Melissa Carrier, VP of Sales & Finance at Total Events. She brings 20 years of industry experience to her role. Keep reading to learn about the changes she has seen in Albany's meeting and events industry and her favorite part about the hospitality industry. 
What is your favorite part about the Albany Hospitality Industry or your job at Total Events?
I really appreciate the true sense of community among the local hospitality professionals.  From the first day my husband started Total Events, we always had a great deal of support from ACCVB and others in the industry.  Attending industry events, like ESSAE and MPI, feel like family reunions, lots of hugs and reminiscing about past events. 
What do you think is the best way for event managers to be creative while remaining cost effective?
Ask yourself, what am I trying to achieve at this event, what impression do I want attendees to leave with?  These questions will hone you in to what is important and where to put your budget.  For example, if the goal of the event is to build new members, incorporating an interactive element to the event, such as lounge spaces, might encourage an opportunity for existing members to chat with potential members.  If the event is a dinner with a special program, investing your décor budget in stage drapery and lighting where guests have their eyes on most of the evening, will leave a lasting impression. Many times, creativity is not just about design, but about how to creatively utilize a set budget.
What have you seen change in Albany's Meeting & Events industry over the past 5-10 years?
Twenty years ago the Albany market lagged behind the trends generated in New York and LA.  But with social media eye candy, clients expect to have access to what they are seeing now.  This has pushed our local industry professionals to step up our game.  As a result, our local market has the skills and resources to produce events like those in New York City.  We are seeing a great deal of clients coming to our market from larger cities because they can get the same results with better service and value.
What trends do you see on the horizon for weddings, events, and meetings?
Clients are looking for interesting and unique venues that offer an experience such as industrial spaces.  Barns are still hot, but clients are going beyond the burlap and canning jars that were popular years ago and creating very different styles from shabby chic to French country inspired.  Even corporate events that need to utilize hotel ballrooms or convention spaces are incorporating the industrial design into their events by bringing in metallics and other industrial textures.  Another popular trend is the use of organic backdrops like hedge walls or floral arches.  They are not only used to frame a ceremony, for example, but can also be used to create a photo area or separate a space, like a lounge area.  Our clients challenge us every day to push beyond the trends to create something unique for them.