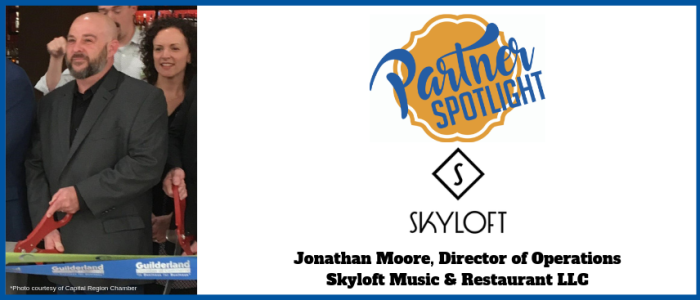 We are featuring Jonathan Moore, Director of Operations at Skyloft Music & Restaurant LLC, the newest venue in Crossgates! Skyloft opened its doors in 2015 in Laguna Beach and in April 2019 in Albany! He brings 30 years of food and beverage industry experience to his role. Keep reading to learn more about his favorite space in the facility, favorite menu offering and more!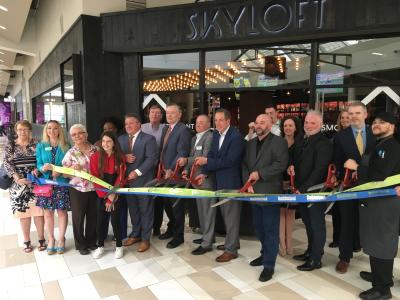 *Photo courtesy of Capital Region Chamber
What is your favorite space in your facility? 
I personally enjoy the live music venue as it has a lot of energy and ambiance during live performances.
What trends take place at your facility?  (Green Initiatives, Meeting Space set up, Agenda shifts)
We do have some green initiatives in place with only providing straws upon request and we only use recycled paper bags (no plastic).
We can accommodate a volume of seated guests through-out our facility. We have 108 tables. Our live music venue can accommodate 650 people for standing room or up to 200 seated. We have several rooms that are sure to please any style of event or meeting. We offer a state of the art Audio Video system for meetings and presentations.
What is your favorite menu offering at your facility?
I enjoy the Jambalaya because of the abundance of seafood and the blend of spices.
What do you think is the best way for event managers to be creative while remaining cost effective?
On-Line Ticket Sales to your event help plan for exactly how many people will be in attendance.