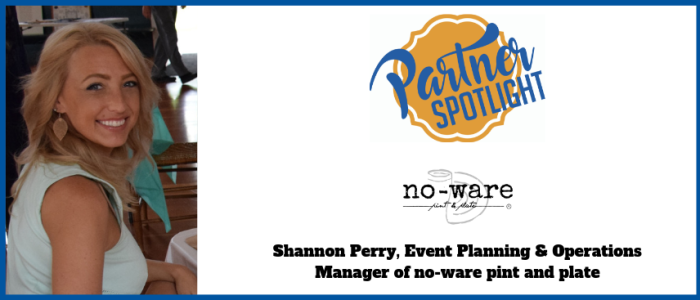 We are featuring Shannon Perry, Event Planning & Operations Manager of no-ware pint and plate! Previously known as Vintage, located in Albany's Warehouse District, co-owner Dave Camacho is renovating and rebranding the space to no-ware pint and plate. Shannon brings 9 years of industry experience to her role at no-ware. Keep reading to learn more about the rebrand, her favorite space in the facility and more!
What is your favorite space in your facility?
Our Courtyard… by far! We New Yorkers endure the whims of winter for the larger part of the year, so it is great to have the Courtyard space where we are able to take advantage of the fresh air past Labor Day. You can find me with my laptop in a sunbeam more days than not! The Courtyard itself is covered with a large gas fire pit in the center that keeps the space warm in the spring and fall as well as a projector screen where we host our Sunset Cinema (Tuesday Movie Nights), sporting events, and presentations. It's an area that's really unique to our space.
What trends take place at your facility? (Green Initiatives, Meeting Space set up, Agenda shifts)
The event market demands programming to be equally as important as content, so the industrial, warehouse elements of our space feature a dynamic environment which allow for equally dynamic events and purposeful experiences. Breakout sessions held in the industrial mezzanine, yoga wellness intermissions in the courtyard, and scratch menus using local ingredients add value to our space and aid in making each event equally as valuable engaging.
What is your favorite menu offering at your facility?
I love brunch. Our Pork Belly Monte Cristo is out of this world, but I also have been known to shamelessly order a Cheese & Charcuterie Board for myself for lunch. They're great to share too!
What do you think is the best way for event managers to be creative while remaining cost effective?
The effective use of technology is one of the most simple and sustainable to increase cost effectiveness. Beyond the ability to significantly reduce printing costs, it also allows participants to be engaged through means such as chatbots and event applications, as well as expanding the reach of the program to remote attendees. Game-ifying the event or meeting is a strong way to augment the experience for a fraction of the cost of a complete immersive build out.
What types of changes are you making in your renovation and rebrand at no-ware?
We are in the process of renovating the space, but in a way that maintains the structural integrity of the space, while highlighting our industrial elements. The goal is to use repurposed materials from local demolition, development and renovations to build out the space in a sustainable way.