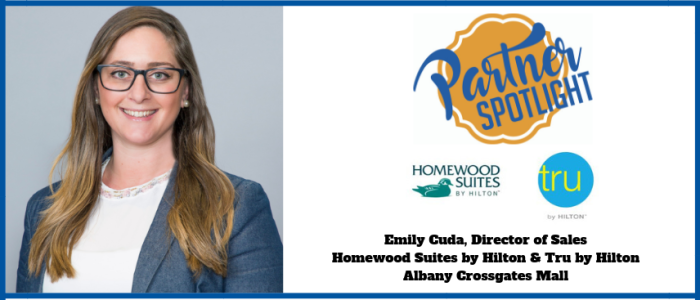 We are featuring Emily Cuda, Director of Sales at Homewood Suites by Hilton and Tru by Hilton Albany Crossgates Mall. She brings 13 years of industry experience to her role. Keep reading to discover her favorite space, favorite menu item and what she is most excited about for Albany's first dual branded hotel!
What is your favorite space in your facility? 
It has to be the Tru lobby!! It's such a fun and creative concept. There's a pool table, an entire wall with a mural highlighting local sights, cool chairs that hang from the ceiling, and individual work pods. Every inch of the lobby was carefully planned and executed! I have a feeling I might be spending more time in the Tru lobby than my office!!
What trends take place at your facility?  (Green Initiatives, Meeting Space set up, Agenda shifts)
We participate in Clean the World, which is Hilton's global initiative to reduce waste from used soap, shampoo, and conditioner. When housekeepers clean the guest rooms, they collect all of the partially used soap, shampoo, and conditioner. Once our bin is full, it's sent to a facility where the items are cleaned and turned into new bars of soap and full bottles of shampoo and conditioner. The hygiene kits are then sent to countries/people in need. We don't realize how much is wasted when it comes to these items…it's an amazing program to be involved in!
What is your favorite menu item at your facility?
It's so simple but it's our grilled cheese that is served at our Homewood Suites evening social. We use fresh baguettes and a variety of delicious cheese. With just the right amount of butter…perfection!!!
What do you think is the best way for event managers to be creative while remaining cost effective?
Everyone is always looking to do more with less. You learn to become resourceful to find solutions that are mutually satisfying. Utilizing products that we already have in-house from our breakfast or evening social operation definitely helps reduce cost.
What are you most excited about for the first dual branded hotel in Albany?
Not only are we the first dual-brand in Albany, we are the first Homewood/Tru combo in all of Hilton's portfolio! Having a dual-brand hotel allows us to leverage the hotels off one another while catering to the needs of all travelers. It also allows us to have a larger staffing module, which will help us deliver exceptional guest service!