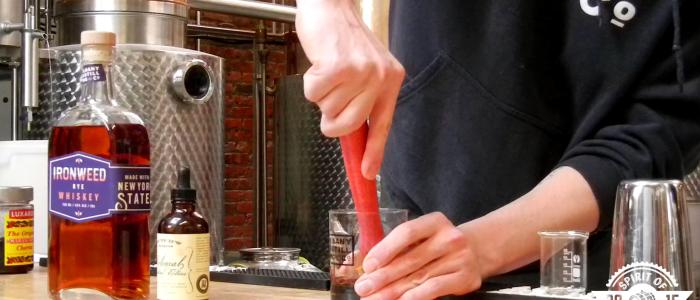 Inspiration
The Albany Distilling Company supplies the Capital Region and beyond with craft spirits one batch at a time. The Ironweed Old Fashioned is in celebration of just that, keeping with tradition of Albany and their devotion for finely crafted liquors, this cocktail remains a classic. The main ingredient being the Distilling Company's own Ironweed Rye whiskey, which they are most known for.
Mixology
Sugar cube
1 Cherry
1 Orange Slice
2 oz Ironweed Rye Whiskey
Club soda
2-3 drops Dutch's Spirits Colonial Bitters
Orange twist
In a rocks glass, muddle the cherry, orange, and sugar cube. Fll the glass with ice and pour in Ironweed Rye Whiskey. Top with club soda and Dutch's Spirit Colonial Bitters to taste. Garnish with an orange twist.
Find it:
The Albany Distilling Company 
78 Montgomery St, Albany, NY 12207
Region: Downtown Area
Phone: (518) 621-7191
 
How to Make the Ironweed Old Fashioned