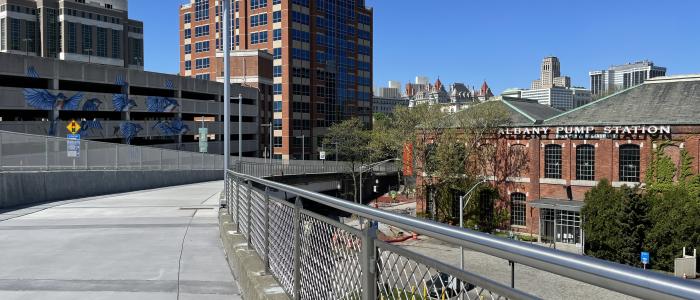 Sabrina Flores
Communications
Discover Albany
sabrina@relentlessaware.com
518.813.4905
FOR IMMEDIATE RELEASE
July 15, 2022 
GUIDED WALKING TOUR ON ALBANY & ERIE CANAL HISTORY THIS SUNDAY ON ALBANY SKYWAY
Albany Skyway tour to welcome cyclists at the end of 400-mile Erie Canal bike tour
ALBANY, N.Y. (July 15, 2022) - Discover Albany and the Erie Canalway National Heritage Corridor will host a historic Erie Canal walking tour on the new downtown Albany Skyway this Sunday, July 17. The tour will begin at 11 a.m. and end at 12:30 p.m. Attendees will have the opportunity to watch the arrival of cyclists from the 'Cycle the Erie Canal Bike Tour,' —an annual, 400-mile, eight-day journey from Buffalo to Albany.
Attendees will hear stories of the Canal industry, impacts on Native Americans, immigration, the Underground Railroad, current Canal stewardship, and future Riverfront programming. The tour will be led by Erie Canalway National Heritage Corridor's Education Program Manager, Patrick Stenshorn, and Discover Albany's Community Engagement Manager, Maeve McEneny-Johnson. 
"The Albany Skyway has created a new access point to the Hudson, opening the door for more opportunities for river engagement. On Sunday, you will see a vibrant mix of outdoor enthusiasts and history lovers discovering the beauty and potential of our riverfront," says McEneny-Johnson.
For the first time, the bike tour will end with a full celebration at the finish line, complete with live music and local vendors, made possible by Parks & Trails New York, a recipient of the Michele Vennard Hospitality grant.
Tickets for the tour can be purchased for $15 on Eventbrite at eventbrite.com/e/albany-the-erie-canal-a-skyway-tour-tickets-359519912737.
For more information on the tour, please visit the Facebook Event Page at https://fb.me/e/1WzWw0HCT.
For more information on Discover Albany, please visit, albany.org.
###
About Discover Albany. The Albany County Convention & Visitors Bureau, Inc. was established in 1976 to promote the civic and commercial progress of the community through increased development of conventions and tourism. Today, the organization is known as Discover Albany. Discover Albany currently represents more than 300 member businesses and assists each year in hundreds of regional meetings. Discover Albany also operates the Discover Albany Visitors Center, Henry Hudson Planetarium, and the Albany International Airport Information Center.  The Albany County Convention and Visitors Bureau Foundation was established in 1993 to provide educational opportunities and work with other organizations to secure grants and funding to advance regional travel and tourism projects.  For more information, call 518-434-1217 or 800-258-3582 or visit www.albany.org.