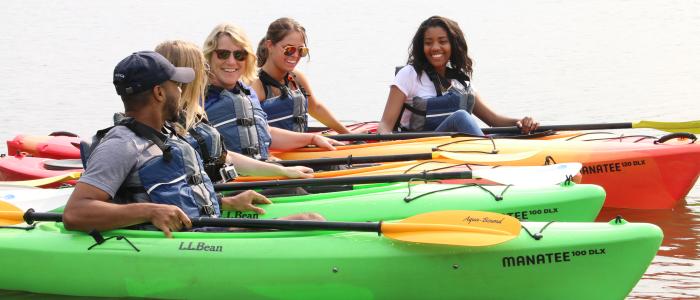 CONTACT:
Michelle Santos, Marketing Coordinator & Social Media Strategist
Discover Albany
Phone: 518-434-1217 x 110
Email: msantos@albany.org

FOR IMMEDIATE RELEASE
June 19, 2018
Explore Albany's Riverfront on a Paddling Adventure
Discover Albany's Partner Upstate Kayak Rentals Opens Hub at Corning Preserve Boat Launch
Albany, NY – Hit the water and see Albany from aboard a kayak! This summer, Discover Albany's partner Upstate Kayak Rentals is launching a self-serve Kayak Rental Hub at the Corning Preserve Boat Launch. The hub comes with everything visitors need to boat, and can be conveniently booked and unlocked with a cell phone, allowing visitors to embark on a scenic Hudson River adventure.
"The Capital District has so many beautiful waterways and kayaking is such a calm peaceful way to explore all of them, especially all the hidden nooks!" says Donna Larkin, President of Upstate Kayak Rentals.

Donna Larkin founded Upstate Kayak Rentals in 2012. Since then, she has expanded operations annually, adding hourly rental operations and five self-serve hubs on the Hudson and Mohawk rivers. Albany is the latest location, and Larkin is excited about its possibilities.
"We are excited to offer kayak rentals to New York's Capital and hope it brings the Business District and Waterfront District closer together," says Larkin. "Imagine hosting your meeting or interview on the water, or better yet, enjoy a nice paddle on your lunch break."
"Discover Albany is excited about the opportunities this new kayak hub affords visitors. We are a riverfront city whose history began with the navigation of the Hudson River. We think it's important to be able to offer that same experience to today's tourists!" says Jill Delaney, President and CEO of Discover Albany.

Upstate Kayak Rentals also maintains a traveling fleet of kayaks that can be rented in connection with parties, business meetings, fundraisers, or other group outings.
The Albany kayaks are available for rent seven days a week. For safety purposes, life jackets are required, and kayaks are rented in pairs to ensure that renters always paddle with a friend. Kayakers are required to have a smart phone with Bluetooth technology and the app Nokē downloaded to the device to unlock the kayaks and accompanying equipment.
The cost for renting two kayaks for an hour and a half, with an additional 15-minute buffer to clean and lock up the equipment, is $50. The cost includes paddles and life jackets.
"Kayak Rental Hubs are a new concept and very easy to use. Our goal is to make it easier and more convenient for people who are comfortable paddling, so everyone can explore more of the Capital Districts waterways," says Larkin.
The new Kayak Rental Hub enhances the outdoor adventure offerings at the Corning Preserve in downtown Albany. In addition to bicycling on the Mohawk-Hudson Bikeway, outdoor enthusiasts can now paddle along Albany's shoreline to explore the beauty of the Hudson River, journey through hidden canals and soak up skyline views – all from a rented kayak.
ABOUT Discover Albany
The Albany County Convention & Visitors Bureau, Inc. was established in 1976 to promote the civic and commercial progress of the community through increased development of conventions and tourism. Today, the organization is known as Discover Albany. Discover Albany currently represents more than 300 member businesses and assists each year in hundreds of regional meetings. Discover Albany also operates the Albany Heritage Area Visitors Center, Henry Hudson Planetarium, and the Albany International Airport Information Center.  The Albany County Convention and Visitors Bureau Foundation was established in 1993 to provide educational opportunities and work with other organizations to secure grants and funding to advance regional travel and tourism projects.  For more information, call 518-434-1217 or 800-258-3582 or visit www.albany.org.
###