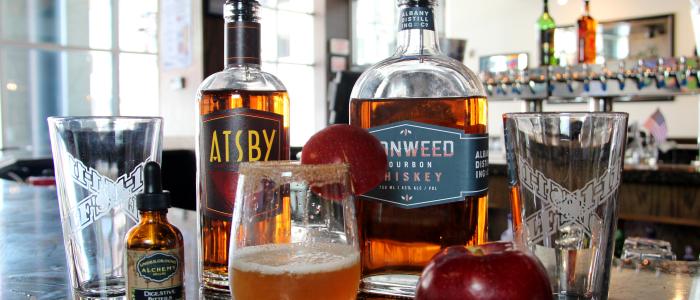 Inspiration 
When you drive into Albany, it's hard to miss the Empire State Plaza. Inspired to make New York's Capital sparkle, Governor Nelson Rockefeller came up with the idea for what he hoped would be the "most electrifying capital in the world." Today the Empire State Plaza occupies 98 acres of land with 10 buildings, beautiful vistas, and is a favorite spot for residents and visitors alike. This cocktail celebrates the great Empire State Plaza and New York's state fruit: the apple. 
Mixology
3 Slices of Local Empire Apples
1 oz. Simple Syrup
6 Dashes of Local Bitters (Underground Alchemy)
2 oz. Ironweed Bourbon (Albany Distilling Company)
1 oz. Sweet Vermouth
Start with a stemless wine glass rimmed with Cinnamon, Sugar and Nutmeg. Garnish the rim with a Slice of the apple. In a shaker, muddle apple slices with simple syrup and bitters. Add Ironweed Bourbon, Vermouth and ice. Shake Vigorously and strain into the glass. Then serve to be enjoyed. Cheers Albany!
Find it:  
Wolf's 1-11
111 Wolf Rd, Colonie, NY 12205
Region: Airport/Wolf Road Area
Phone: (518) 275-0561
http://www.wolfs111.com/