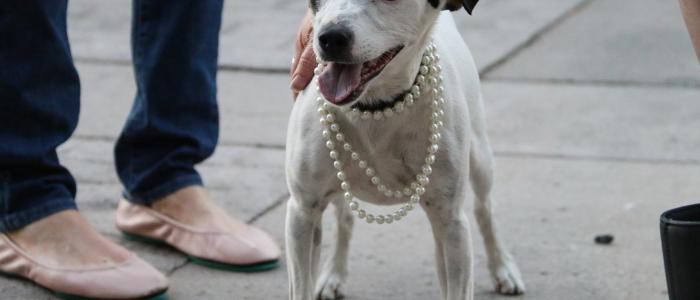 Albany, NY – Discover Albany – its history, its architecture, favorites haunts, and celebrities! Eric Mower + Associates, in partnership with the Albany County Convention & Visitors Bureau, has created a series of videos to introduce visitors to Albany. Featuring interviews with Albany notables William Kennedy, Jack McEneny, David Alan Miller, and Paul Grondahl, as well as local Visitor Champions, the videos provide an in-depth look at this great city.  
The videos will be screened at a community-wide launch party, held October 4, at 5:30-7pm at the Albany Heritage Area Visitors Center, 25 Quackenbush Square, Albany. The launch party will be a celebration of all things Albany, complete with Albany-centric refreshments, Albany merchandise, and guest of honor "Chipper," the 'great, great, grandniece of Nipper.'
See 'Chipper' tour some of the businesses and landmarks in the video series, in this adorable video invite.  
"We in Albany take great pride in our capital city, including its distinctive architecture, its unique neighborhoods, its rich history, and its welcoming people," said Albany Mayor Kathy Sheehan. "These videos remind us of what we have and will educate newcomers about what a great place Albany is to live and work. Thank you to the Visitors Bureau and all the others who worked to create videos that bring our great city to life."
"With the Albany Capital Center open, and so much development happening downtown, it's a great time to discover Albany," says Michele Vennard, President and CEO of the Albany County Convention & Visitors Bureau. "Our new brand, 'Discover Albany' embraces this message, and inspires residents and visitors alike to explore, discover, and celebrate. We are so thankful to Eric Mower + Associates for their help producing this video series that celebrates our rich past and our promising future."
"Eric Mower + Associates has been honored to work with the Albany County Convention & Visitors Bureau to help tell the incredible story that downtown Albany has to tell," said Sean Casey, Senior Vice President and Managing Director at Eric Mower + Associates. "Once the Albany Capital Center opened for business, we began to welcome thousands of new visitors to downtown Albany, the Capital Region's Main Street. Downtown Albany is rich with history, tradition, culture, art, architecture and most importantly people. And that's what made this project such a joy."
The videos are part of the ongoing efforts of the Albany County Convention & Visitors Bureau, Albany Capital Center, Downtown Albany Business Improvement District, and Capitalize Albany Corporation to build a destination that is welcoming to visitors, Vennard says.
Last year, the agencies hosted a series of Hospitality Summits to keep the community apprised of convention center development. The videos, which feature visitor tips and recommendations, marks the next stage of this project.
About the ACCVB
The Albany County Convention & Visitors Bureau, Inc. was established in 1976 to promote the civic and commercial progress of the community through increased development of conventions and tourism. ACCVB currently represents more than 300 member businesses and assists each year in hundreds of regional meetings. ACCVB also operates the Albany Heritage Area Visitors Center, Henry Hudson Planetarium, and the Albany International Airport Information Center. For more information, call 518-434-1217 or 800-258-3582 or visit www.albany.org.
###