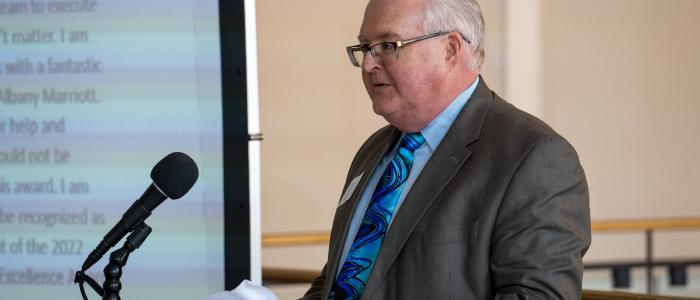 Sabrina Flores
Communications
Discover Albany
sabrina@relentlessaware.com
518.813.4905
FOR IMMEDIATE RELEASE
May 6, 2022
DISCOVER ALBANY RECOGNIZES ALBANY MARRIOT DIRECTOR WITH PRESTIGIOUS HOSPITALITY EXCELLENCE AWARD
Award recognition and 2022 grant recipients announced at Discover Albany's Annual Celebration of Hospitality Excellence
ALBANY, N.Y. (May 6, 2022) – Discover Albany, Albany County's convention and visitors bureau, hosted its Annual Celebration of Hospitality Excellence at the Kenmore Ballroom in downtown Albany on Thursday, May 5. It also served as the bureau's annual meeting. This year's meeting was held during National Travel & Tourism Week, a yearly industry tradition celebrating travel's impact on our economy, businesses, personal well-being, etc.
Speakers included Jill Delaney, Discover Albany's president and CEO; Leola Edelin, Discover Albany's board chair; Daniel McCoy, Albany County Executive; Rich Ensor, commissioner of Metro Atlantic Athletic Conference (MAAC); Owen Smith, producing artistic director of the Playhouse Stage Company (the Cohoes Music Hall & Park Playhouse, Inc.); Mark Dorr, president of the New York State Hospitality and Tourism Association (NYSHTA); and Steve Schifley.
"We are thrilled to come together each year to celebrate the accomplishments of the prior year, and recognize some of the very people who make this destination a great place to live, work and play," said Jill Delaney, Discover Albany President and CEO. "As we looked back on all we accomplished while struggling with the setbacks in 2021, we are greatly encouraged about what the future holds for Albany County Tourism."
Steve Schifley, director of sales and marketing for the Albany Marriott, was recognized as this year's recipient of the Professor Anthony J. Strianese Hospitality Excellence Award. Additionally, Discover Albany announced the recipients of the 2022 Michele L. Vennard Hospitality Grant, with a combined total of $74,950 distributed among 24 different organizations.
"You can be the best salesperson, but if you don't have a great team to execute then it doesn't matter," said Schifley. "I am lucky to work with a fantastic team at the Albany Marriott. Without their help and support, I would not be accepting this award. I am honored to be recognized as the recipient of the 2022 Hospitality Excellence Award."
The Albany Marriott is a premier stop for individuals traveling to the Capital Region looking for a hotel that suits their needs. Steve Schifely brings his over 25 years of experience in the hospitality industry to the Albany Marriott, shaping it as an ideal destination for travelers. Schifley is responsible for the care and comfort of hundreds of guests traveling to the Capital Region and businesses hosting events within the hotel's meeting space. 
The Professor Anthony J. Strianese Hospitality Excellence Award, also referred to as "The Toby," is named after the late Professor Strianese, an instructor and chair of SUNY Schenectady's School of Hotel, Culinary Arts, and Tourism and co-author of several hospitality textbooks. The award gives special recognition to travel business as an integral part of this region's economy. While there are many regional awards, The Toby is devoted solely to highlighting those who represent the peak of planning, execution, and professionalism within the travel industry. This award will continue to honor travel and hospitality entities for their leaders who display the core ideals of the industry and the role they play in our regional economy.
"It is thanks in part to dedicated service-minded leaders like this year's Toby winner that Albany continues to be a great place for visitors, meetings, conventions and sports," said Leola Edelin, chair of the Discover Albany board of directors. "Our grant program, for example, would not be so rich and widespread if we were not presenting our destination in the best light."
The Michele L. Vennard Hospitality grants are given in partnership with the Community Foundation for the Greater Capital Region to organizations creating programs combining art & tourism. Named after the former longtime president and CEO of Discover Albany, recipients are chosen by the Discover Albany board of directors. The grant fund, managed by the Community Foundation for the Greater Capital Region, supports programs that aid in building and sustaining Albany County tourism destinations, attractions, events and tourism-related activities. The grants encourage collaboration between nonprofit organizations, community groups and hospitality businesses to further extend the economic impact of tourism and business.
Grant recipients include the following:
• Albany Barn, Inc.: 2022 Gifted Weekend
• Albany Center Galleries: Capital Walls Mural Bike and Walking Tours
• Albany County Historical Association: Immersion in History: 2022 Program Expansion & Promotion
• Albany Institute of History & Art: 2022 Exhibitions: Marketing Support
• American Italian Heritage Museum: An Italian-American Experience in the Capital District
• Capital Repertory Company, Inc.: City Séance – Albany Ghost Tours
• Colonie Senior Services Centers, Inc.: Promoting & Expanding Albany's Hospitality Industry through the Senior Community
• Erie Canalway Heritage Fund, Inc.: Matton Shipyard: Preservation & Adaptive Reuse Initiative 
• Friends Of Pruyn House: Old Fashioned Sunday
• Friends of the Pine Bush Community, Inc.: Nature Documentary Short on the Albany Pine Bush
• Historic Cherry Hill: Expanding Access, Improving Present, Preserving History
• International Professional Wrestling Hall of Fame: Hall of Fame Induction Weekend and Grand Opening of Museum
• Lake George Opera Festival/Opera Saratoga: Sky on Swings at The Egg
• Mohawk Towpath Scenic Byway Coalition, Inc.: Promotion of the Mohawk Towpath Visitor Experience
• Musicians of Ma'alwyck: The Ship's Captain at the Schuyler Mansion
• National Society of the Daughters of the American Revolution: Delaware Ave – A Path Through History
• New York Folklore Society: Mohawk Hudson Folklife Festival at the Washington Park Lakehouse 
• New York Genealogical and Biographical Society: New York Family History Conference 2022
• Old Songs, Inc.: Old Songs Festival of Traditional Music and Dance
• Organization of Adirondack Rowers and Scullers, Inc.: Support for 2022 Ice Breaker Challenge, National Learn to Row Day and Head of the Hudson Regatta
• Park Playhouse: 2022 Summer Season of Free Theatre
• Parks and Trails New York, Inc.: Celebrating Albany at the Cycle the Erie Canal Finish Line
• Russell Sage College: Opalka Gallery 2022-23 Season 
• Steamer 10 Theatre, Inc.: Track Lighting for Lobby/Gallery
For more information about the Annual Celebration of Hospitality Excellence please visit albany.org/partners/hospitality-excellence-celebration.
###
About Discover Albany. The Albany County Convention & Visitors Bureau, Inc. was established in 1976 to promote the civic and commercial progress of the community through increased development of conventions and tourism. Today, the organization is known as Discover Albany. Discover Albany currently represents more than 300 member businesses and assists each year in hundreds of regional meetings. Discover Albany also operates the Discover Albany Visitors Center, Henry Hudson Planetarium, and the Albany International Airport Information Center.  The Albany County Convention and Visitors Bureau Foundation was established in 1993 to provide educational opportunities and work with other organizations to secure grants and funding to advance regional travel and tourism projects.  For more information, call 518-434-1217 or 800-258-3582 or visit www.albany.org.