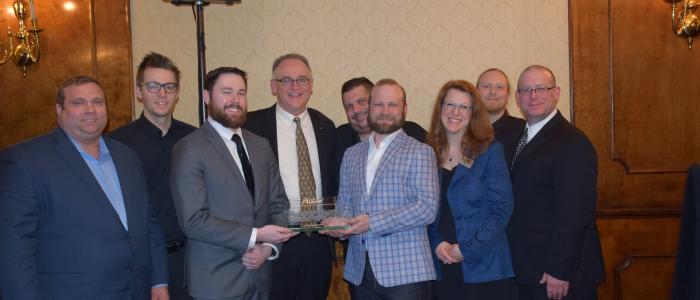 CONTACT:
Molly Belmont, Director of Marketing
Discover Albany
Phone: 518-434-1217 x 203
Email: mbelmont@albany.org
FOR IMMEDIATE RELEASE
April 10, 2019
 
Albany Tourism Industry Recognizes CMIAV at Annual Celebration
ALBANY, NY – On April 9, at Discover Albany's Annual Meeting at the Century House in Latham, the hospitality community honored CMIAV, a New York-based audiovisual services firm.
CMIAV received the Professor Anthony J. Strianese Hospitality Excellence Award, or "The Toby" as it's lovingly referred to in the hospitality community. The award is named for Professor Strianese, an instructor and chair of Schenectady County Community College's School of Hotel, Culinary Arts, and Tourism program, and co-author of several hospitality textbooks.
"It is a proud moment for our staff to earn this award!" says Eric Smith, President of CMIAV. "From the beginning, the award has recognized successful hospitality leaders and businesses that contribute to the Albany Region and we are thrilled to be in such good company.  In keeping with the educational excellence that its namesake, Anthony Strianese practiced, we have worked to train and educate our staff to "do the right thing" for our clients."
CMIAV is a New York State based company with over thirty-five people employed in Albany, another forty employees throughout the state and five employees in the Washington DC office. CMIAV's clients include many New York State Associations, Professional Trade, Business and Corporate organizations as well as several Hotels, Convention Centers and other meeting facilities.  The company travels with most of their clients throughout North America, providing audiovisual services and technical personnel for meetings and events. 
"CMIAV's equipment inventory is one of the largest in New York State, however, as this award signifies, our people are our biggest asset and their excellent customer service has helped us grow into the company we are today," says Eric Smith, President of CMIAV.
"CMIAV is a major selling point for meeting planners considering Albany as the destination for their next meeting," says Jill Delaney, President and CEO of Discover Albany. "The team of cutting-edge, customer-service oriented individuals elevate our meeting offerings and make it easy for meeting planners to host it here."
The event will also honor our Albany Ambassadors who have collectively brought more than $2.5 million to our local economy by bringing their meetings and events, "home" to Albany.
Laurie Bargstedt
New York State Association for Continuing and Community Education (NYACCE)
Jim Bopp
New York Mortgage Bankers Association (NYMBA)
Harold Burke
Veterans of Foreign Wars (VFW) Department of New York
Doug Burns
National Atmospheric Deposition Program (NADP)
Lisa Cooper, MMC
New York State Town Clerks Association (NYSTCA)
Candance Corsaro
New York District Kiwanis International
Katrina Fioenza
New York Association of SkillsUSA

Denisha Goodman, LCSW-R
New York State Corrections and Youth Services Association (NY CAYSA)
Susan A. Haag, RMC/MMC
New York State Town Clerks Association (NYSTCA)

Jennifer Jerussi
College Student Personnel Association of New York State (CSPA NYS)
Judy Keating
America Mensa Society/Mensa of Northeastern New York
Patrick Mansfield
New York State Elks Association
Gretchen Oliver
New York State Teachers of English to Speakers of Other Languages (NYS TESOL)
About Discover Albany
The Albany County Convention & Visitors Bureau, Inc. was established in 1976 to promote the civic and commercial progress of the community through increased development of conventions and tourism. Today, we're known as Discover Albany and represent more than 300 member-businesses. Each year, we assist in hundreds of regional meetings. Discover Albany also operates the Albany Heritage Area Visitors Center, Henry Hudson Planetarium, and the Albany International Airport Information Center. For more information, call 518-434-1217 or 800-258-3582 or visit www.albany.org.
###