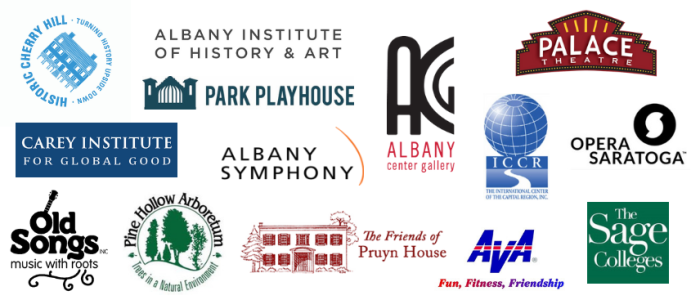 CONTACT:
Molly Belmont, Director of Marketing
Discover Albany
Phone: 518-434-1217 x 203
Email: mbelmont@albany.org

FOR IMMEDIATE RELEASE
November 15, 2018
Discover Albany Grants $43,500 to County Non-Profits
to Grow Tourism Economy
Nonprofit organizations across Albany County to benefit
from Hospitality Grants
Albany, NY – Discover Albany announced $43,500 in funding for the latest round of Hospitality Grant recipients with a presentation ceremony at the SEFCU Arena. The Albany County Convention and Visitors Bureau Foundation (DBA Discover Albany) has awarded $303,500 over the course of the past five years to organizations that create programs and tourist-attracting events in our community. This year the grant was renamed the Michele L. Vennard Hospitality Grant Program in honor of retiring bureau president, Michele Vennard.
The grant fund, which is managed by the Community Foundation for the Greater Capital Region (CFGCR), supports programs that aid in building and sustaining Albany County tourism destinations, attractions, events, and tourism-related activities. The grants encourage collaboration between nonprofit organizations, community groups, and hospitality businesses to further extend the economic impact of tourism and business.
"We are extremely proud of our efforts to support nonprofit organizations across Albany County from the Hilltowns to downtown Albany," says Jill Delaney, President/CEO of Discover Albany. "These organizations create the fascinating programs that make Albany County such a well-rounded, interesting place for tourists and residents to visit and explore. These programs will increase the number of visitors, stimulate our local economy, and contribute to the overall richness of Albany County."
"The Community Foundation is proud to work with Discover Albany on the Hospitality Grant Program," said John G. Eberle, President and CEO, the Community Foundation for the Greater Capital Region. "The grant awards given through this program strengthen our region's nonprofits and help make Albany County more vibrant for residents and visitors. On behalf of the Community Foundation's staff and Board of Directors, I extend my sincere congratulations to all Hospitality Grant recipients."
The grants, which will be used for programming in next year and range from $1,000 - $5,000, are funded through the earned income of the Bureau. This year's recipients include the Carey Institute in Rensselaerville and Old Songs in Voorheesville.
"The Carey Institute and the Helderberg Brewery are so grateful to the Michele L. Vennard Hospitality Grant Program for supporting our work to cultivate economic opportunities in our community," says Sarah Avery Gordon, Director of External Affairs, Carey Institute for Global Good. "Winning this grant enables the Helderberg Brewery at the Carey Institute in Rensselaerville to develop and market an agritourism event series in 2019, building upon the success of our overnight beer pairing dinners by engaging more local food suppliers, artists and entertainers, as well as additional Hilltown bed and breakfasts to accommodate overflow."
Rensselaerville is a unique and beautiful village tucked away in the southwest corner of Albany County at the head of the Catskills, and the overnight package destination series that this grant supports will expand agritourism opportunities for local farmers and small businesses.
Old Songs, Inc. will utilize the grant to bring in performers for their annual traditional music festival, which in turn translates into guest overnights at local hotels. "Winning this grant further strengthens the relationship between Old Songs, Inc, Discover Albany, the Community Foundation, and the Community," says Joy Bennett, Executive Director for Old Songs.
The 2018 Grant Recipients Are:
Albany Center Galleries, Inc. $3,500
Murals, Mural Talks & Tours and Pop Up Exhibits
Albany Institute of History and Art, $5,000
Enlightened Women: The Schuylers and their Circle Exhibition Promotion
Albany Symphony Orchestra, Inc. $2,000
Star Wars & More: A Salute to John Williams
American Volkssport Association, Inc. $2,500
Walk Through History-AVA's 21st Biennial Walking Convention
Carey Institute for Global Good, Inc. $2,500
Helderberg Brewery 2019 Agritourism Event Series Marketing Campaign
Friends of Pruyn House, $1,000
2019 Summer Concerts in the Barn
Historic Cherry Hill, $2,500
Marketing Plan for Historic Cherry Hill's Grand Reopening
International Center of the Capital Region, Inc. $3,500
International Visitors Leadership Program
Lake George Opera Festival Association, Inc. $3,000
Opera-To-Go
Old Songs, Inc. $2,000
Old Songs Folk Festival
Palace Performing Arts Center, Inc. $5,000
Visualizing the New and Improved Palace - Creating a Case for Support
Park Playhouse, Inc. $5,000
31st Season Productions
Pine Hollow Arboretum, $1,000
New Website Design and Launch
Sage Colleges, $5,000
Opalka Gallery, 2018-2019 Season
For more information about the grant recipients and awards, please contact Jill Delaney, President/CEO of Discover Albany, at (518) 434-1217 ext. 204 or jdelaney@albany.org; or Jacqueline Mahoney, Vice President of Programs at the CFGCR, at (518) 446-9638 or jmahoney@cfgcr.org.
ABOUT Discover Albany
The Albany County Convention & Visitors Bureau, Inc. was established in 1976 to promote the civic and commercial progress of the community through increased development of conventions and tourism. Today, the organization is known as Discover Albany. Discover Albany currently represents more than 300 member businesses and assists each year in hundreds of regional meetings. Discover Albany also operates the Albany Heritage Area Visitors Center, Henry Hudson Planetarium, and the Albany International Airport Information Center.  The Albany County Convention and Visitors Bureau Foundation was established in 1993 to provide educational opportunities and work with other organizations to secure grants and funding to advance regional travel and tourism projects.  For more information, call 518-434-1217 or 800-258-3582 or visit www.albany.org.
ABOUT the Community Foundation of the Great Capital Region
Since 1968, The Community Foundation for the Greater Capital Region has provided an effective means for people who care about this community to be part of shaping its future. The Community Foundation offers donors a complete toolkit for charitable giving, expert assistance in learning more about the causes they care about, and the opportunity to join others with similar interests to learn and give together.
###