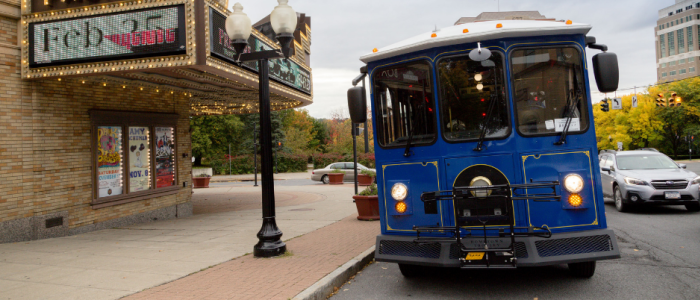 Jaime Watson
Director of Communications
Office: (518) 437-6842
Cell: (518) 222-0036
Email: jaimew@cdta.org
CDTA and Partners Launch Capital City Trolley
Service to Run Thursday-Saturday Nights, Linking Albany Neighborhood Attractions Beginning October 25
ALBANY, NY (October 22, 2018) - The Capital District Transportation Authority (CDTA) has partnered with several Albany organizations to launch the Capital City Trolley. The free service will provide a safe and convenient link between a pair of Albany neighborhoods – Lark Street's Restaurant & Retail Row and Downtown Albany's Entertainment District.
"As the Capital Region's transportation leader, we continually look to improve on and expand services to meet the needs of the communities that we serve," said Georgie Nugent, CDTA Board Chairwoman. "The Capital City Trolley does just that. It provides a new option to attract customers who may not have experienced CDTA before. We want these new customers to enjoy the convenience of fast and easy transportation for an enjoyable evening in downtown Albany."
The Capital City Trolley will begin on Thursday, October 25 and operate Thursday, Friday and Saturday nights. Service will begin at 5:00 p.m. and conclude at 12:30 a.m. with a trolley arriving every 20 minutes. Schenectady-based software and logistics company, Transfinder has enhanced its CityFinder mobile application that allows users to track trolley location and highlights detailed points of interest.  
The service will offer convenient stops near key attractions, including the Albany Capital Center, the Times Union Center, the State Capitol, the Palace Theatre, the Corning Riverfront Park, Quackenbush Square, the Riverfront Parking Garage and the Washington Avenue Armory.
CDTA has partnered with the Albany Capital Center, Albany Parking Authority, Albany Police Department, Albany County Sheriff's Department, Discover Albany, Lark Street BID, Downtown Albany BID, Capitalize Albany Corporation to bring this exciting service to downtown.
###
About CDTA
CDTA is the premier mobility provider in the Capital Region, providing local, express, commuter and bus rapid transit services across its four-county, 2300 square-mile service area. CDTA also operates the regional bike-share program, CDPHP Cycle! CDTA owns and operates the Rensselaer Rail and Saratoga Springs Train Stations. CDTA was named the 2017 Best Mid-Sized Transportation System in North America by the American Public Transportation Association.