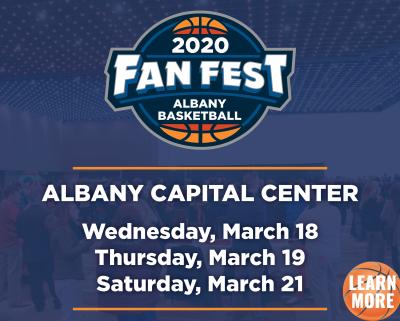 2020 Albany Basketball Fan Fest to feature three days of food, drink and exciting entertainment
Three-day event to be held on Wednesday, March 18; Thursday, March 19; and Saturday, March 21 at the Albany Capital Center
ALBANY, NY – March 3, 2020 – Basketball enthusiasts will have the opportunity to celebrate one of the biggest annual events in sports this March during the 2020 Albany Basketball Fan Fest in downtown Albany. Admission is free.
The three-day event will take place at the Albany Capital Center on Wednesday, March 18 from noon to 5 p.m.; Thursday, March 19 and Saturday, March 21. Event times for Thursday and Saturday will be available at AlbanyFanFest.com on Sunday, March 15.
"There is no better place to be a sports fan right now than Albany County as we offer the perfect opportunity to enjoy great food, entertainment and more at the 2020 Albany Basketball Fan Fest," said Albany County Executive Daniel P. McCoy. "There's something for everyone to enjoy over the three-day event at the Albany Capital Center from college pep bands to sampling food from some of the area's best restaurants to seeing an acrobatic dunk team."
Fans to enjoy Saratoga Eagle Beer Garden and sampling of Capital Region's best restaurants
Designed to introduce visitors to the best of Albany, the event will feature a showcase of local restaurants serving their top creations, as well as an outstanding lineup of beer, cider and seltzer at the Saratoga Eagle Beer Garden.
Participating restaurants include Allie B's Cozy Kitchen; The Bishop; Cider Belly Doughnuts; City Beer Hall; Iron Gate Café; Jacob and Anthony's; Mazzone Hospitality; Public House 42; Recovery Sports Grill; and Wellington's.
The Saratoga Eagle Beer Garden will feature Bud Light Seltzer and offerings from Common Roots Brewing Company; Frog Alley Brewing Company; Goose Island Brewery; Michelob; Northway Brewing Co.; Paradox Brewery; Stella Artois and 1911 Cider. Details on the specific beverages and brands are available at AlbanyFanFest.com.
Food samples are $10 for five tasting tickets. Drink tasting tickets are $7 for three samples (cash only; must be at least 21 years old with a valid ID to purchase and consume alcohol).
Air Elite Dunkers to headline 2020 Albany Basketball Fan Fest entertainment with high-flying aerobatic performances 
The 2020 Albany Basketball Fan Fest will feature an exciting array of entertainment and activities, highlighted by performances from the Air Elite Dunkers, the official acrobatic dunk team for the Atlanta Hawks, Charlotte Hornets, New York Knicks, Orlando Magic, Toronto Raptors and Washington Wizards. The team will showcase their aerobatic skills on Wednesday, March 18 and Thursday, March 19 (times to be announced).
Fans in attendance will have the opportunity to display their skills during shooting contests on the Siena men's basketball regulation home court, which will be relocated from the Times Union Center to the Albany Capital Center for the duration of the event. Other activities and entertainment will include performances from college pep bands, music from a live DJ and large-screen televisions. 
"We are very excited to welcome fans from across the country to experience our state-of-the-art venues here in New York's capital city," said Bob Belber, ASM Global General Manager of the Times Union Center. "This is going to be a truly memorable and thrilling few days of athleticism and entertainment and we encourage basketball fans to celebrate with us at the Albany Basketball Fan Fest."
"This is a great opportunity to introduce thousands of visitors to all that Albany has to offer. We hope that the Fan Fest will provide our visitors with high-quality entertainment during their stay while also allowing them the time and flexibility to explore the many other local attractions that make Albany and the Capital Region a premier destination," said Discover Albany President and CEO Jill Delaney.
Supporters of the 2020 Albany Basketball Fan Fest include the Albany Capital Center, Albany Convention Center Authority, Albany County, Ayco, Bolton St.-Johns, Breitling, CDTA, Discover Albany, Downtown Albany Business Improvement District, Dunkin', Hearts on Fire, I LOVE NY, Northeastern Fine Jewelry, NYSCOPBA, Saratoga Eagle, SEFCU, Sports Foundation of the Capital Region, Times Union, Total Events and Upside Collective.
For more information about the 2020 Albany Basketball Fan Fest, visit AlbanyFanFest.com.
-30-
FOR FURTHER INFORMATION, CONTACT:
Mark Bardack or Caitlin Cortelyou
Ed Lewi Associates
P: (518) 383-6183
C: M. Bardack (518) 867-7943 or C. Cortelyou (518) 867-2440
E: mbardack@edlewi.com or ccortelyou@edlewi.com