21st AVA Biennial Convention 
Northeast Region 
June 9-16, 2019
Please Note: This site promotes what there is to do in Albany during your convention. This is not the main convention website.
Click here for the AVA 2019 Convention website, which will lead you to specific convention information and registration.
On behalf of Discover Albany, we are delighted to welcome the 21st AVA Biennial Convention, Northeast Region, June 9 - 16, 2019 to the Red Lion Hotel Albany on Wolf Road.

We are certain your convention experience will be productive and provide you with an opportunity to discover all that Albany has to offer. Our beautiful 400-year-old-city combined with our rich Dutch architecture tell an important American story.
The Red Lion Hotel Albany and The Red Roof Inn-Albany Airport Welcomes Volkssporters
PLEASE NOTE THE RED LION HOTEL IS SOLD OUT.
The block room rate is $77.99. The Red Roof Inn is NOT a full-service hotel and a continental breakfast is not included.
To make your reservations: please dial (518) 459-1971. Please make sure to ask for the American Volksport Association block to get a discounted rate. 
188 Wolf Road
Albany, NY 12205
518-459-1971
Block Code: B112AVA6
Click here to utilize the overflow hotel
Red Lion Hotel Albany is perfect for your upcoming convention. Experience the casual atmosphere in the Grille Restaurant off the main lobby or unwind with your favorite cocktail in 205 Wolf Lounge.
Whether you're lounging beside their indoor/outdoor pool, exercising in their onsite fitness center or working in their 24-hour business center, let the Red Lion Hotel Albany make your next stay the perfect one.

Please note there are a limited number of pet-friendly rooms available at the hotel for an additional $25 per day charge.

You may begin booking your rooms on Friday, July 20 by calling 1-844-248-7467.  This reservation line is available 24 hours a day.  Please mention you are with the American Volksport Convention to receive the group discounted rate.  Thank you.
Top Features of the Red Lion Hotel in Albany 
Complimentary Airport Shuttle
Outdoor Pool (Seasonal May thru September) (9am – 9pm)
Indoor Pool (9am – 9pm)
Relaxing Hot Tub (9am – 9pm)
Fitness Center
Free Parking
Pets Welcome (fee applies)
100% non-smoking hotel
Check-in 4pm; Check-out 12pm
Get a Great Nights Rest in Albany 
Red Lion Hotel Albany features 312 rooms with amenities like pillow top beds. All attendees appreciate the work desk and free Wi-Fi in each hotel room. Many rooms also feature an in-room safe and mini-refrigerator. Property is a 100% non-smoking facility. 4pm check-in with a noon check-out.
All Guest Rooms Include:
Pillowtop bed
Flat-screen TV with premium channels
Work desk with lamp
Complimentary local calls
Free Wi-Fi
Hairdryer
Private bath

You will find many options for shopping and dining along the Wolf Road corridor, including over 40 restaurants and the Colonie Center Shopping Mall featuring L.L. Bean, P.F. Chang's, The Cheesecake Factory, Christmas Tree Shops, Sephora, Regal Cinemas Stadium 13 and more.
Wolf Road Area Information 
| | | |
| --- | --- | --- |
| Banks                                                     |                                                   |   |
| Bank of America        | 133 Wolf Road         | (518) 459-9003  |
| Berkshire Bank | 98 Wolf Road | (518) 269-3920 |
| Cap Com FCU | 4 Winners Circle | (518) 458-8986 |
| Capital Bank | 65 Wolf Road | (518) 438-8986 |
| Citizens Bank/ Hannaford | 96 Wolf Road | (518) 438-5910 |
| Key Bank | 95 Wolf Road  | (518) 482-6074          |
| M&T Bank | 125 Wolf Road | (518) 482-6595 |
| NBT Bank | 80 Wolf Road | (518) 437-4100 |
| Pioneer Bank | 652 Albany Shaker Road | (518) 730-3999 |
| SEFCU Bank | 40 Wolf Road | (518) 452-8183 |
| Trustco Bank | 34 Wolf Road  | (518) 458-7761 |
| Churches |   |   |
| St. Francis Chapel | 145 Wolf Road | (518) 459-2854 |
| Medical Services |   |   |
| Albany Med EMUrgentCare | 98 Wolf Road #16 | (518) 264-9000 |
| | | |
| --- | --- | --- |
| Parks                                              |                                                   |   |
| The Crossings | 580 Albany Shaker Road      | (518) 783-2760 |
|   |   |   |
| | | |
| --- | --- | --- |
| Pharmacies |   |   |
| CVS | 465 Sand Creek Road  | (518) 482-2835  |
| Hannaford Pharmacy | 96 Wolf Road  | (518) 482-1085  |
| Rite Aid | 463 Albany Shaker Road  | (518) 458-1205 |
**For Additional information on Wolf Road services click here! **
Just 20 minutes from Wolf Road is downtown Albany! 
Downtown Albany is home to the New York State Museum, one of the country's largest with a September 11 exhibit and a working carousel on the 4th floor.  The Albany Institute of History & Art is home to "Albany's Mummies" and was founded in 1791.  The Corning Tower Observation Deck at the Empire State Plaza is where you not only get a bird's eye view of Albany but also three mountain ranges - the Adirondacks, Berkshires, and Catskills.   
Located just a short walk from downtown Albany's business district is Lark Street, often referred to as the "Greenwich Village" of the Capital Region. With countless restaurants, cafes, art galleries, boutiques and more, Lark Street is reminiscent of the great and colorful neighborhoods of Manhattan. For more information on dining and shopping on Lark Street, please click here.
The Albany Heritage Area Visitors Center offers visitors access to information seven days a week.  The knowledgeable staff can answer visitor inquiries and they are well stocked with travel brochures about New York's Capital Region.
The Visitors Center is also home to the USS Albany Exhibit, an exhibit dedicated to preserving the National Heritage of the City of Albany and to honor all those who proudly served aboard ships named after the capital city of New York State. Experience the rich history of the USS Albany ships starting in 1846 to the current day. Come walk through history and view memorabilia!
Be sure to stop at Capital Wine Albany, 348 State Street Albany, NY 12210 while you are here for the convention. They have generously offered 16% off any wine (only) purchases to visitors who show a hotel room key or a convention attendee badge at their store. 
Looking for a brief history lesson while enjoying the new state of the art Capital Center? look no further for the history of Albany's Commerce, Culture, History and Nature. Artist Dahl Taylor brings the history of Albany to life with his murals. Click here for additional information About the Artist.  Click here for additional information About the Murals.
**Please Note: the Albany Capital Center Murals are not open to the public at this time**
Taste Albany's rapidly evolving culinary scene by exploring the food print of this historic city on the west bank of the Hudson River!
5+ tastes and sips that represent Albany's culinary and craft brewing scene.

Discover New York's historic connection with craft brewing and how it has returned to flourish.

Get an insider's introduction to one of the oldest churches in New York and discover where some of the famous congregants sat.  See if you can find all the Nipper statues and how they are connected to this legacy city.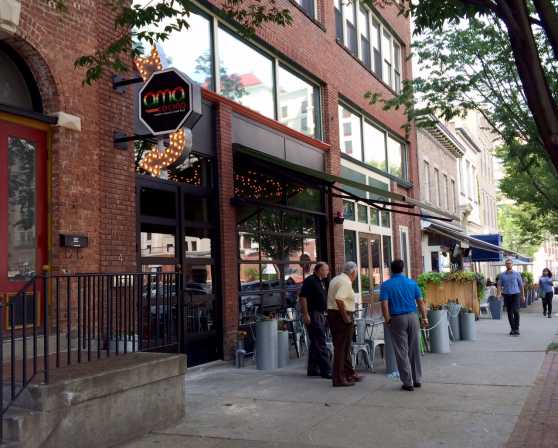 The Corning City Preserve is a 15-acre landscaped waterfront, park, entertainment venue and natural habitat area, supporting native species of animals and plants along the Hudson River in Downtown Albany. Bike or hike along the multi-use Corning Trail and you will connect to the regionally networked Mohawk Hudson Hike/Bike Trail, an 86-mile trail in New York's Mohawk Valley and the Capital District.
1928 NY-43, Averill Park, NY 12018
518-674-5565
Thompson's Lake State Park Campground
68 Thompson's Lake Rd
East Berne NY 12059
(518) 872-1674 - Park Office
Photo Credit: Alps Family Campground 
Downtown Albany Area Information
| | | |
| --- | --- | --- |
| Banks | | |
| Berkshire Bank | 41 State Street | (518) 432-0318 |
| Capital Bank | 132 State Street | (518) 434-1212 |
| Key Bank | 120 State Street | (518) 433-2000 |
| NBT Bank | 54 State Street | (518) 426-3285 |
| Churches | | |
| The Cathedral of All Saints | 62 South Swan Street | (518) 465-1342 |
| Cathedral of the Immaculate Conception | 125 Eagle Street | (518) 463-4447 |
| The First Church in Albany | 110 North Pearl Street | (518) 463-4449 |
| St. Mary's Church | 10 Lodge Street | (518) 462-4254 |
| St. Peter's Episcopal Church | 107 State Street | (518) 434-3502 |
| Pharmacies | | |
| Rite Aid | 17 North Pearl Street | (518) 434-6024 |
Need a Rental Car or a Driver?
While you are in the capital region, Discover Albany has partnered with Enterprise and National Car Rentals to assist you with all of your rental car needs at a discounted price. From the economical vehicle to the luxury sedan they will have a stocked inventory for you to choose from. All of this combined with their great customer service and can-do attitude you will feel right at home.  No driving in your future? No problem...Lyft has you covered. No matter where you end up, count on Lyft for rides in minutes. The Lyft app matches you with a friendly local driver at the tap of a button.  Just request and go. After the ride, simply pay through your telephone.

Looking for public transportation? CDTA provides multiple stops along the city of Albany as well as throughout the Capital District.  Click here for the bus schedule.